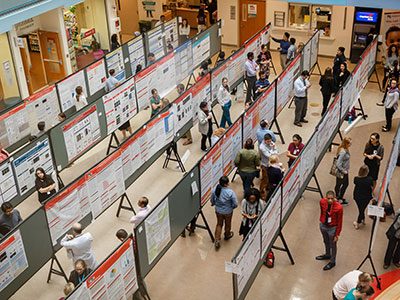 "Diversity powers innovation" was brought to life at Children's National April 16 to 20, 2018, during the eighth annual Research and Education Week. Children's faculty were honored as President's Award winners and for exhibiting outstanding mentorship, while more than 360 scientific poster presentations were displayed throughout the Main Atrium.
Two clinical researchers received Mentorship Awards for excellence in fostering the development of junior faculty. Lauren Kenworthy, Ph.D received the award for Translational Science and Murray M. Pollack, M.D., M.B.A., was recognized in the Clinical Science category as part of Children's National Health System's Research and Education Week 2018.
Dr. Kenworthy has devoted her career to improving the lives of people on the autism spectrum and was cited by former mentees as an inspirational and tireless counselor. Her mentorship led to promising new lines of research investigating methods for engaging culturally diverse families in autism studies, as well as the impact of dual language exposure on cognition in autism.
Meanwhile, Dr. Pollack was honored for his enduring focus on motivating early-career professionals to investigate outcomes in pediatric critical care, emergency medicine and neonatology. Dr. Pollack is one of the founders of the Collaborative Pediatric Critical Care Research Network. He developed PRISM 1 and 2, which has revolutionized pediatric intensive care by providing a methodology to predict mortality and outcome using standardly collected clinical data. Mentees credit Dr. Pollack with helping them develop critical thinking skills and encouraging them to address creativity and focus in their research agenda.
In addition to the Mentorship and President's Awards, 34 other Children's National faculty, residents, interns and research staff were among the winners of Poster Presentation awards. The event is a celebration of the commitment to improving pediatric health in the form of education, research, scholarship and innovation that occurs every day at Children's National.
Children's Research Institute (CRI) served as host for the week's events to showcase the breadth of research and education programs occurring within the entire health system, along with the rich demographic and cultural origins of the teams that make up Children's National. The lineup of events included scientific poster presentations, as well as a full slate of guest lectures, educational workshops and panel discussions.
"It's critical that we provide pathways for young people of all backgrounds to pursue careers in science and medicine," says Vittorio Gallo, Ph.D., Children's chief research officer and CRI's scientific director. "In an accelerated global research and health care environment, internationalization of innovation requires an understanding of cultural diversity and inclusion of different mindsets and broader spectrums of perspectives and expertise from a wide range of networks," Gallo adds.
"Here at Children's National we want our current and future clinician-researchers to reflect the patients we serve, which is why our emphasis this year was on harnessing diversity and inclusion as tools to power innovation," says Mark L. Batshaw, M.D., physician-in-chief and chief academic officer of Children's National.
"Research and Education Week 2018 presented a perfect opportunity to celebrate the work of our diverse research, education and care teams, who have come together to find innovative solutions by working with local, national and international partners. This event highlights the ingenuity and inspiration that our researchers contribute to our mission of healing children," Dr. Batshaw concludes.
Awards for the best posters were distributed according to the following categories:
Basic and translational science
Quality and performance improvement
Clinical research
Community-based research and
Education, training and program development.
Each winner illustrated promising advances in the development of new therapies, diagnostics and medical devices.
Diversity powers innovation: Denice Cora-Bramble, M.D., MBA
Diversity powers innovation: Vittorio Gallo, Ph.D.
Diversity powers innovation: Mark L. Batshaw, M.D.
https://innovationdistrict.childrensnational.org/wp-content/uploads/2018/04/cnmc-research-education-week.jpg
300
400
Innovation District
https://innovationdistrict.childrensnational.org/wp-content/uploads/2018/11/idlogo1-tagline-Advances-in-Medicine.gif
Innovation District
2018-04-30 14:36:57
2018-11-28 09:22:07
Research and Education Week awardees embody the diverse power of innovation