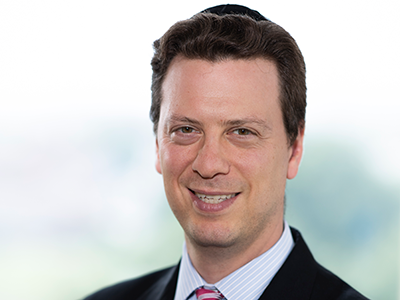 Andrew Dauber, M.D., division chief of Endocrinology at Children's National Hospital, will be awarded the 2020 Richard E. Weitzman Outstanding Early Career Investigator Award at ENDO 2020. The prestigious award will be presented at the annual meeting of the Endocrine Society in recognition of Dauber's work in understanding the regulation of growth and puberty, and applying innovative genetic technologies to studying pediatric endocrinology. Dauber credits many collaborators throughout the world, as well as the team at Children's National for the award.
With a five-year grant from the National Institutes of Health (NIH), Dauber and colleagues from the Cincinnati Children's Hospital Medical Center, Boston Children's Hospital and the Children's Hospital of Philadelphia are using electronic health records to identify children who likely have rare genetic growth disorders. Using cutting-edge DNA sequencing technologies, including whole exome sequencing, the researchers are aiming to identify novel genetic causes of severe growth disorders. The first paper describing genetic findings in patients with high IGF-1 levels was published in Hormone Research in Paediatrics in December 2019.
Dauber and researchers at Cincinnati Children's Hospital Medical Center are exploring how to treat patients with mutations in the PAPPA2 gene. In 2016, the group described the first patients with mutations in this gene who had decreased the bioavailability of IGF-1, stunting their growth and development. In their current phase of research, findings are emphasizing the importance of this gene in regulating IGF-1 bioavailability throughout childhood. The ultimate aim is to create therapies to increase IGF-1 bioavailability, thereby supporting healthy growth and development in children. Their first study to track PAPPA2 and intact IBGBP-3 concentrations throughout childhood was published in the European Journal of Endocrinology in January 2020.
Dauber is particularly interested in studying children with dominantly inherited forms of short stature. Along with collaborators in Cincinnati, he currently has an ongoing treatment trial using growth hormone in patients with Aggrecan gene mutations.  Dauber hopes to announce soon a new clinical trial for children with all forms of dominantly inherited short stature.
Study upon study has shown us that there are many factors that affect an individual's height and growth. As these studies and the conversation around how to identify and address genomic anomalies become more prevalent, the team at Children's National is increasingly interested in engaging with other centers around the country. In the coming months, the Children's National Research & Innovation Campus will open on the grounds of the former Walter Reed Army Medical Center, which will serve as a one-of-a-kind pediatric research and innovation hub. A critical component to this campus is the co-location of Children's National research with key partners and incubator space.
Join Children's National for a celebratory reception at ENDO 2020 in San Francisco. The Children's National ENDO Alumni and Friends Reception will take place on Sunday, March 29, from 7-9 p.m. in the Golden Gate Ballroom at the San Francisco Marriott Marquis.
https://innovationdistrict.childrensnational.org/wp-content/uploads/2020/01/Andrew-Dauber.png
300
400
Innovation District
https://innovationdistrict.childrensnational.org/wp-content/uploads/2018/11/idlogo1-tagline-Advances-in-Medicine.gif
Innovation District
2020-01-30 09:06:50
2020-01-30 09:06:50
Andrew Dauber, M.D., caps off research success with award and reception