Getting to know SPR's future President, Beth Tarini, M.D., MS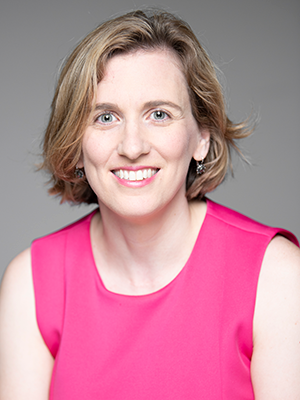 Quick. Name four pillar pediatric organizations on the vanguard of advancing pediatric research.
Most researchers and clinicians can rattle off the names of the Academic Pediatric Association, the American Academy of Pediatrics and the American Pediatric Society. But that fourth one, the Society for Pediatric Research (SPR), is a little trickier. While many know SPR, a lot of research-clinicians simply do not.
Over the next few years, Beth A. Tarini, M.D., MS, will make it her personal mission to ensure that more pediatric researchers get to know SPR and are so excited about the organization that they become active members. In May 2019 Dr. Tarini becomes Vice President of the society that aims to stitch together an international network of interdisciplinary researchers to improve kids' health. Four-year SPR leadership terms begin with Vice President before transitioning to President-Elect, President and Past-President, each for one year.
Dr. Tarini says she looks forward to working with other SPR leaders to find ways to build more productive, collaborative professional networks among faculty, especially emerging junior faculty. "Facilitating ways to network for research and professional reasons across pediatric research is vital – albeit easier said than done. I have been told I'm a connector, so I hope to leverage that skill in this new role," says Dr. Tarini, associate director for Children's Center for Translational Research.
"I'm delighted that Dr. Tarini was elected to this leadership position, and I am impressed by her vision of improving SPR's outreach efforts," says Mark Batshaw, M.D., Executive Vice President, Chief Academic Officer and Physician-in-Chief at Children's National. "Her goal of engaging potential members in networking through a variety of ways – face-to-face as well as leveraging digital platforms like Twitter, Facebook and LinkedIn – and her focus on engaging junior faculty will help strengthen SPR membership in the near term and long term."
Dr. Tarini adds: "Success to me would be leaving after four years with more faculty – especially junior faculty – approaching membership in SPR with the knowledge and enthusiasm that they bring to membership in other pediatric societies."
SPR requires that its members not simply conduct research, but move the needle in their chosen discipline. In her research, Dr. Tarini has focused on ensuring that population-based newborn screening programs function efficiently and effectively with fewer hiccups at any place along the process.
Thanks to a heel stick to draw blood, an oxygen measurement, and a hearing test, U.S. babies are screened for select inherited health conditions, expediting treatment for infants and reducing the chances they'll experience long-term health consequences.
"The complexity of this program that is able to test nearly all 4 million babies in the U.S. each year is nothing short of astounding. You have to know the child is born – anywhere in the state – and then between 24 and 48 hours of birth you have to do testing onsite, obtain a specific type of blood sample, send the blood sample to an off-site lab quickly, test the sample, find the child if the test is out of range, get the child evaluated and tested for the condition, then send them for treatment. Given the time pressures as well as the coordination of numerous people and organizations, the fact that this happens routinely is amazing. And like any complex process, there is always room for improvement," she says.
Dr. Tarini's research efforts have focused on those process improvements.
As just one example, the Advisory Committee on Heritable Disorders in Newborns and Children, a federal advisory committee on which she serves, was discussing how to eliminate delays in specimen processing to provide speedier results to families. One possible solution floated was to open labs all seven days, rather than just five days a week. Dr. Tarini advocated for partnering with health care engineers who could help model ways to make the specimen transport process more efficient, just like airlines and mail delivery services. A more efficient and effective solution was to match the specimen pick-up and delivery times more closely with the lab's operational times – which maximizes lab resources and shortens wait times for parents.
Conceptual modeling comes so easily for her that she often leaps out of her seat mid-sentence, underscoring a point by jotting thoughts on a white board, doing it so often that her pens have run dry.
"It's like a bus schedule: You want to find a bus that not only takes you to your destination but gets you there on time," she says.
Dr. Tarini's current observational study looks for opportunities to improve how parents in Minnesota and Iowa are given out-of-range newborn screening test results – especially false positives – and how that experience might shake their confidence in their child's health as well as heighten their own stress level.
"After a false positive test result, are there parents who walk away from newborn screening with lingering stress about their child's health? Can we predict who those parents might be and help them?" she asks.
Among the challenges is the newborn screening occurs so quickly after delivery that some emotionally and physically exhausted parents may not remember it was done. Then they get a call from the state with ominous results. Another challenge is standardizing communication approaches across dozens of birthing centers and hospitals.
"We know parents are concerned after receiving a false positive result, and some worry their infant remains vulnerable," she says. "Can we change how we communicate – not just what we say, but how we say it – to alleviate those concerns?"
https://innovationdistrict.childrensnational.org/wp-content/uploads/2019/04/Beth_Anne_Tarini.png
400
300
Innovation District
https://innovationdistrict.childrensnational.org/wp-content/uploads/2018/11/idlogo1-tagline-Advances-in-Medicine.gif
Innovation District
2019-04-19 12:07:21
2019-04-19 13:52:06
Getting to know SPR's future President, Beth Tarini, M.D., MS