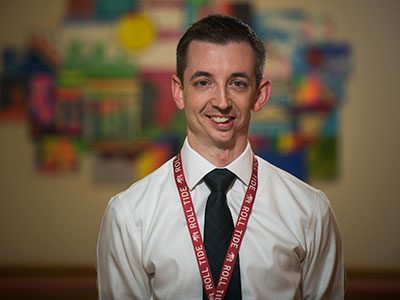 Steven Hardy, Ph.D., a pediatric psychologist in the Center for Cancer and Blood Disorders at Children's National, has been awarded a K23 Mentored Patient-Oriented Research Career Development Award by the National Heart, Lung, and Blood Institute (NHLBI) in recognition of his progress toward a productive, independent clinical research career. National Institutes of Health (NIH) Mentored Career Development Awards are designed to provide early career investigators with the time and support needed to focus on research and develop new research capabilities that will propel them to lead innovative studies in the future.
Dr. Hardy, who has worked at Children's National since 2013, specializes in the emotional, behavioral and cognitive aspects of children's health, with a particular emphasis on evaluating and treating psychological difficulties among children with cancer or sickle cell disease. With the K23 award, he will receive nearly $700,000 over a five-year period, which will provide him with an intensive, supervised, patient-oriented research experience. The grant will support Dr. Hardy's time to conduct research, allow him to attend additional trainings to enhance research skills, and fund a research project titled "Trajectory of Cognitive Functioning in Youth with Sickle Cell Disease without Cerebral Infarction."
Many children with sickle cell disease (SCD) also have intellectual challenges which stem from two primary pathways – stroke and other disease-related central nervous system effects. While stroke is a major complication of SCD, the majority of children with SCD have no evidence of stroke but may still exhibit cognitive functioning challenges related to their disease. Such cognitive difficulties have practical implications for the 100,000 individuals in the SCD, as 20-40% of youth with SCD repeat a grade in school and fewer than half of adults with SCD are employed. Dr. Hardy's project will focus on understanding the scope and trajectory of cognitive difficulties in children with SCD without evidence of stroke, as well as the mechanisms that precipitate disease-related cognitive decline. The study will characterize temporal relationships between biomarkers of SCD severity and changes in cognitive functioning to inform future development of risk stratification algorithms to predict cognitive decline. Armed with the ability to predict cognitive decline, families will have additional information to weigh when making decisions and providers will be better able to intervene and tailor treatment.
https://innovationdistrict.childrensnational.org/wp-content/uploads/2017/05/Steven-Hardy.jpg
300
400
Innovation District
https://innovationdistrict.childrensnational.org/wp-content/uploads/2018/11/idlogo1-tagline-Advances-in-Medicine.gif
Innovation District
2019-04-09 13:29:59
2019-04-09 13:29:59
Steven Hardy, Ph.D., awarded prestigious NIH grant for sickle cell research, career development