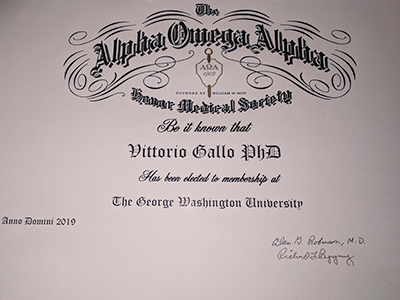 Vittorio Gallo, Ph.D., Chief Research Officer at Children's National, was inducted into Alpha Omega Alpha (AΩA), a national medical honor society that since 1902 has recognized excellence, leadership and research in the medical profession.
"I think it's great to receive this recognition. I was very excited and surprised," Gallo says of being nominated to join the honor society.
"Traditionally AΩA membership is based on professionalism, academic and clinical excellence, research, and community service – all in the name of 'being worthy to serve the suffering,' which is what the Greek letters AΩA stand for," says Panagiotis Kratimenos, M.D., Ph.D., an ΑΩΑ member and attending neonatologist at Children's National who conducts neuroscience research under Gallo's mentorship. Dr. Kratimenos nominated his mentor for induction.
"Being his mentee, I thought Gallo was an excellent choice for AΩΑ faculty member," Dr. Kratimenos says. "He is an outstanding scientist, an excellent mentor and his research is focused on improving the quality of life of children with brain injury and developmental disabilities – so he serves the suffering. He also has mentored numerous physicians over the course of his career."
Gallo's formal induction occurred in late May 2019, just prior to the medical school graduation at the George Washington University School of Medicine & Health Sciences (GWSMHS) and was strongly supported by Jeffrey S. Akman, Vice President for Health Affairs and Dean of the university's medical school.
"I've been part of Children's National and in the medical field for almost 18 years. That's what I'm passionate about: being able to enhance translational research in a clinical environment," Gallo says. "In a way, this recognition from the medical field is a perfect match for what I do. As Chief Research Officer at Children's National, I am charged with continuing to expand our research program in one of the top U.S. children's hospitals. And, as Associate Dean for Child Health Research at GWSMHS, I enhance research collaboration between the two institutions."
https://innovationdistrict.childrensnational.org/wp-content/uploads/2019/06/Gallo-AOA-award.png
300
400
Innovation District
https://innovationdistrict.childrensnational.org/wp-content/uploads/2018/11/idlogo1-tagline-Advances-in-Medicine.gif
Innovation District
2019-06-12 15:42:52
2019-06-13 15:00:00
Vittorio Gallo, Ph.D., inducted into Alpha Omega Alpha