Exploration of the developing brain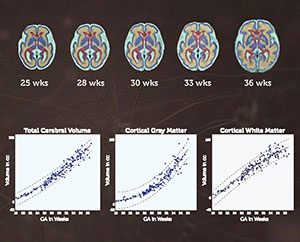 Common, lifelong health conditions like diabetes and hypertension have footprints that can be traced back to the womb. With advanced fetal MRI we seek to understand as much as possible about brain development during the time in utero. Non-invasive imaging technology helps us to identify signs of abnormal fetal development that may facilitate earlier diagnoses of chronic conditions and intervention.
We're exploiting both the power and safety of MRI to develop ways to pick up early signs and signals in fetuses whose brain development may be veering off in the wrong direction. Using this advanced technology we can begin to detect varying signals or other signs of distress. These signs of distress may appear in the form of a brain chemical imbalance or a structural brain abnormality that is too subtle to be seen by an ultrasound or other scan. We now have the ability to leverage magnetic resonance imaging to examine the brain in utero for even the most subtle derailments that can lead to lifelong consequences.
The first nine months of life, when a fetus is in the womb, is a time of unparalleled growth and a critical time for fetal brain development. As we examine the maturation of the fetal brain, we know that each and every cortical fold represents future function lost or gained and lays the fundamental background or platform from which critical functions will emerge such as language and social and behavioral development.
We are developing technology that can quickly and reliably pick up early signals of a fetal brain that's going off route to provide the ability to access therapeutic windows that are currently inaccessible. Earlier identification and intervention can improve the quality of life for children and potentially could even reverse the abnormality.
Early identification of fetal distress is critical. To be able to provide an intervention you must first be able to know that a fetus is getting into trouble, and you must be able to identify the problem early enough, in order to intervene before it has already caused injury to the fetus.
About the Author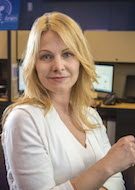 Catherine Limperopoulos, Ph.D.
Director, MRI Research of the Developing Brain; Director, Diagnostic Imaging and Radiology/Fetal and Transitional Medicine
Research interests: Fetal neonatal brain injury
https://innovationdistrict.childrensnational.org/wp-content/uploads/2016/09/PerspectivesImage_Exploration-of-the-Developing-Brain.jpg
1627
2013
Innovation District
https://innovationdistrict.childrensnational.org/wp-content/uploads/2018/11/idlogo1-tagline-Advances-in-Medicine.gif
Innovation District
2016-08-08 18:08:52
2017-08-15 10:19:59
Exploration of the developing brain