Andrew Dauber, M.D., MMSc, awarded prestigious laureate award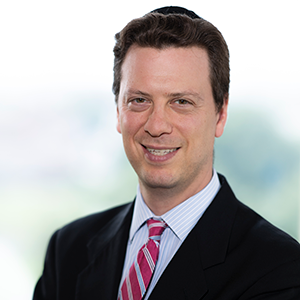 Unfortunately, we've been notified that the ENDO2020 conference has been canceled due to concerns of COVID-19. Because of this, we will not be hosting our reception in honor of Andrew Dauber, M.D., on Sunday, March 29.
We hope to see you at a future Endocrinology or Pediatric Endocrinology event.
Children's National Hospital is incredibly proud of the work Dr. Dauber has done in the endocrinology community.
Andrew Dauber, M.D., MMSc, division chief of Endocrinology at Children's National Hospital, will receive the 2020 Richard E. Weitzman Outstanding Early Career Investigator Award from The Endocrine Society. Given annually, the award was established in 1982 and honors the memory of the late Richard E. Weitzman, who had a brief but outstanding career studying neurohypophyseal hormone and cardiovascular-endocrine physiology – two seminal areas of modern endocrinology.
Dr. Dauber was selected as a recipient for the prestigious award for his contributions to understanding the regulation of growth and puberty, and his success at applying innovative genetic technologies to studying pediatric endocrinology.
"I feel extremely honored and humbled to be the recipient of the Richard E. Weitzman Outstanding Early Career Investigator Award from the Endocrine Society," says Dr. Dauber. "I am so grateful to my many collaborators throughout the world as well as to my entire research team whose hard work and friendship are the basis for this award. I am excited to continue our work at Children's National, an institution dedicated to innovation and team science."
Dr. Dauber joined Children's National in 2018 and specializes in studying and treating growth disorders. He has published over 75 studies examining genetic clues to endocrine disorders, with a focus on short stature and growth disorders.
The award will be presented at ENDO 2020, The Endocrine Society's annual meeting, March 28-31, 2020, in San Francisco, California.
https://innovationdistrict.childrensnational.org/wp-content/uploads/2018/09/Andrew-Dauber.png
300
300
Innovation District
https://innovationdistrict.childrensnational.org/wp-content/uploads/2018/11/idlogo1-tagline-Advances-in-Medicine.gif
Innovation District
2019-10-02 11:52:54
2020-10-26 11:13:02
Andrew Dauber, M.D., MMSc, awarded prestigious laureate award