A new type 2 diabetes program leader in a time of change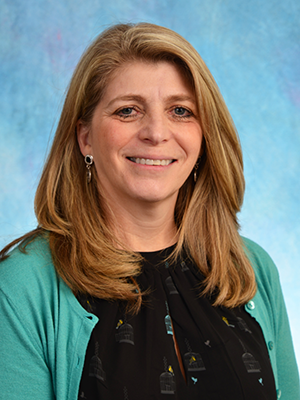 Elizabeth Estrada, M.D., was struck by the increasing number of children with obesity and type 2 diabetes when she finished her fellowship in 1996. That fascination, along with increasingly alarming statistics about the rise in type 2 diabetes in youth over the past 20 years, steered her to a career focused on pediatric diabetes and metabolism that eventually led her to Children's National Health System, where she will become the director of the type 2 diabetes program this spring.
Coming most recently from the University of North Carolina, where she served as Chief of the Division of Pediatric Endocrinology and Diabetes, Dr. Estrada will work closely with Children's National Endocrinology Division Chief Andrew Dauber, M.D., and Diabetes Services Director Fran Cogen, M.D., to create a multidisciplinary type 2 diabetes care structure that she has seen success with throughout her career.
"Children with type 2 diabetes have very different needs than children with type 1," Dr. Estrada explains. "They need more nutrition, more social work, and psychological support."
Children's National presents Dr. Estrada with a unique opportunity at a time when the field of care and treatment options for children with type 2 diabetes is expanding. She aims to develop a comprehensive, multidisciplinary program integrating the established Children's National obesity program with the nationally-ranked endocrinology and diabetes team, which has a strong foundation in providing psychological support to families, which is part of a larger toolkit at Children's National to help families manage a diabetes diagnosis.
The obesity program at Children's National emphasizes personalized clinical care and education to prevent and reduce the prevalence of obesity, incorporating multiple aspects of medical and surgical care for obese children and adolescents through the Improving Diet, Energy and Activity for Life (IDEAL) clinic and the bariatric surgery program. The IDEAL clinic helps children with dietary counseling, health education classes, physical activity and weight-management techniques, as well as psychosocial support to help children reach and maintain a healthy weight.
One of the first children's hospitals to be accredited by the Metabolic and Bariatric Surgery Accreditation and Quality Improvement Program (MBSAQIP®) and the only hospital in the area to be accredited to perform bariatric surgery on adolescents, the bariatric surgery program at Children's National is directed by Evan Nadler, M.D., who has been safely performing surgeries for nearly 15 years.
The American Diabetes Association (ADA) recently published updates to the "Standards of Medical Care in Diabetes," which provides research-based practice recommendations for children and adolescents with type 2 diabetes, including metabolic surgery as a treatment recommendation, stating:
The results of weight-loss and lifestyle interventions for obesity in children and adolescents have been disappointing, and no effective and safe pharmacologic intervention is available or approved by the U.S. Food and Drug Administration in youth. Over the last decade, weight-loss surgery has been increasingly performed in adolescents with obesity. Small retrospective analyses and a recent prospective multicenter nonrandomized study suggest that bariatric or metabolic surgery may have benefits in obese adolescents with type 2 diabetes similar to those observed in adults.
The recommendations further stipulate that metabolic surgery should only be considered under certain circumstances, including for those adolescents with T2D who are markedly obsess (BMI > 35 kg/m2) and who have uncontrolled glycemia and/or serious comorbidities despite lifestyle and pharmacologic intervention, and it should only be performed by an experienced surgeon working as part of a well-organized and engaged multidisciplinary team.
Working closely with Dr. Nadler and the obesity team will be a hallmark of Dr. Estrada's role.
Her goal is to organize a clinic that not only provides clinical care and surgical options, but also includes research and provides medical education and training to medical students, residents and fellows. Dr. Estrada's own research has focused on insulin resistance, one of the underlying problems in type 2 diabetes.
"There are several clinical trials currently exploring the efficacy and safety of medications for type 2 diabetes in children, something that is incredibly important since Metformin and insulin are the only approved options at this point," Estrada says. "It is imperative that we bring research to Children's National as a complement to the existing programs and to continue providing the highest level of care for these patients."
The Division of Diabetes and Endocrinology works with the National Institutes of Health, conducts independent research and received support from the Washington Nationals Dream Foundation for its diabetes program, the largest pediatric diabetes program in the region, which provides community education and counsels 1,800 pediatric patients each year.
https://innovationdistrict.childrensnational.org/wp-content/uploads/2019/03/Elizabeth-Estrada.png
400
300
Innovation District
https://innovationdistrict.childrensnational.org/wp-content/uploads/2018/11/idlogo1-tagline-Advances-in-Medicine.gif
Innovation District
2019-03-26 13:40:19
2022-07-18 10:06:38
A new type 2 diabetes program leader in a time of change