Regional pediatric endocrinologists gather at Children's National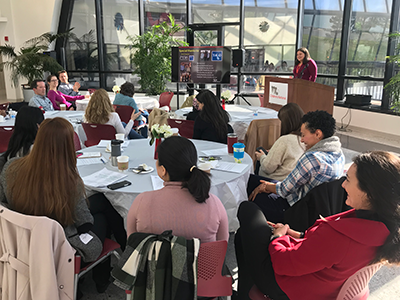 On Nov. 10, 2019, more than 30 pediatric endocrine physicians and nurse practitioners from Washington, D.C., Maryland and Northern Virginia gathered at Children's National Hospital to discuss the latest in pediatric endocrinology research.
Organized by Paul Kaplowitz, M.D., Professor Emeritus of Pediatrics, this was the third regional pediatric endocrinology meeting since 2012 and the second held at the hospital. "The meetings are a great opportunity for providers to meet regional colleagues who they may communicate with about patients but rarely see face to face," explains Dr. Kaplowitz.
The providers spent half a day at Children's National viewing presentations and connecting with their colleagues. Among the presentations was a talk by new Children's National faculty member Brynn Marks, M.D., MSHPEd, titled, "Medical Education in Diabetes Technologies."
The presentation highlighted Dr. Marks' research on how to best teach providers to make optimal use of the information provided by continuous blood glucose monitoring, as well as how to adjust insulin pump settings based on frequent blood glucose testing.
Another notable presentation was by Richard Kahn, Ph.D., recently retired former chief scientific and medical officer at the American Diabetes Association. Dr. Kahn's talk was titled "Prediabetes: Is it a meaningful diagnosis?"
"This was an excellent talk whose message was that making a diagnosis of 'prediabetes' may not be nearly as helpful as we thought, since most patients tests either revert to normal or remain borderline, and there is no treatment or lifestyle change which greatly reduces progression to type 2 diabetes," says Dr. Kaplowitz.
###
Children's National regional pediatric endocrinology meeting presentations
Welcome from Paul Kaplowitz, M.D., and Children's National Endocrinology Division Chief Andrew Dauber, M.D.
"Prediabetes: Is it a meaningful diagnosis?"
Richard Kahn, Ph.D., University of North Carolina at Chapel Hill
"Overlapping genetic architecture of Type 2 diabetes and Cystic fibrosis-related diabetes"
Scott Blackman, M.D., Ph.D., Johns Hopkins Medicine
"Pediatric Pituitary Tumors: What we have learned from the NIH cohort"
Christina Tatsi, M.D., Ph.D., National Institutes of Health
"Medical Education in Diabetes Technologies"
Brynn Marks, M.D., MSHPEd, Children's National Hospital
"A phenotypic female infant with bilateral palpable gonads"
Cortney Bleach, M.D., Walter Reed National Military Medical Center
"Estimating plasma glucose with the FreeStyle Libre Pro CGM in youth: An accuracy analysis"
Miranda Broadney, M.D., MPH, University of Maryland School of Medicine
"Recruiting for research project on "Arginine-Stimulated Copeptin in the diagnosis of central diabetes insipidus"
Chelsi Flippo, M.D., Fellow, National Institutes of Health
https://innovationdistrict.childrensnational.org/wp-content/uploads/2019/11/regional-pediatric-endocrinology-meeting.png
300
400
Innovation District
https://innovationdistrict.childrensnational.org/wp-content/uploads/2018/11/idlogo1-tagline-Advances-in-Medicine.gif
Innovation District
2019-11-22 10:46:16
2022-07-15 09:33:51
Regional pediatric endocrinologists gather at Children's National