Genetic testing reigns triumphant at health app hackathon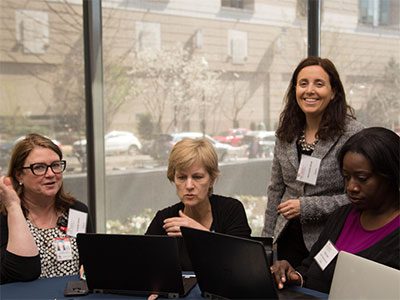 The growing popularity of genetic testing has one large hurdle: There are fewer than 4,000 genetic counselors in the United States, and people who use commercial genetic testing kits may receive confusing or inaccurate information.
To combat this problem, a team of doctors from the Rare Disease Institute at Children's National Health System created the framework for a smartphone application that would house educational videos and tools that provide reputable information about genetic disorders and genetic testing.
On April 13, 2018, Debra Regier, M.D., Natasha Shur, M.D., and their teammates presented the app "Bear Genes" at the 2nd Annual Medical & Health App Development Workshop, a competition sponsored by the Clinical and Translational Science Institute at Children's National (CTSI-CN) and the Milken Institute School of Public Health (Milken Institute SPH) at the George Washington University. Bear Genes won first place, and the team received $10,000 to develop a working prototype of the app.
The Bear Genes team was one of 10 who presented their ideas for smartphone apps to a panel of judges at the competition. Ideas covered a variety of topics, including emergency room visits and seizures related to menstrual cycles. Sean Cleary, Ph.D., M.P.H., an associate professor of epidemiology and biostatistics at the Milken Institute SPH, and his teammates proposed an app called "MyCommunicationPal" that would assist autistic individuals in reporting their symptoms to healthcare providers.
Sean Cleary and Kevin Cleary, Ph.D., technical director of the Bioengineering Initiative at Children's National Health System, created the hackathon to bring together professionals from various fields to create technology-based solutions for public health and medical challenges. Interested participants submit applications and app proposals in the fall, and 10 ideas are selected to be fleshed out at the half-day hackathon. Participants join teams to develop the selected ideas, and on the day of the event, create a five-minute presentation to compete for the top prize. About 90 people attended this year's hackathon.
"The workshop provides us with the opportunity to collaborate with healthcare providers, public health professionals and community members to develop an appropriate user-friendly app for those in need," said Sean Cleary. "The event also fosters future collaborations between important stakeholders."
This article originally appeared in the Milken Institute SPH pressroom.
https://innovationdistrict.childrensnational.org/wp-content/uploads/2018/04/2nd-annual-hackathon.jpg
300
400
Innovation District
https://innovationdistrict.childrensnational.org/wp-content/uploads/2018/11/idlogo1-tagline-Advances-in-Medicine.gif
Innovation District
2018-04-23 14:37:27
2022-05-17 12:37:07
Genetic testing reigns triumphant at health app hackathon