Children's obesity research team presents compelling new findings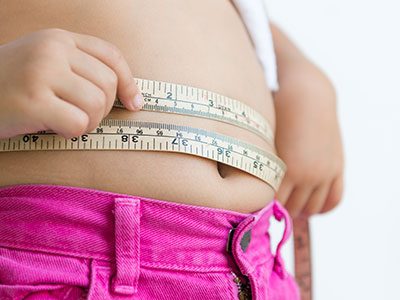 Faculty from Children's National Health System's Department of Psychology & Behavioral Health set out to learn if any demographic, psychiatric, or cognitive factors play a role in determining if an adolescent should be eligible for bariatric surgery, and what their weight loss outcomes might be. Presenting at the Society for Pediatric Psychology Annual Conference earlier this month, a group of researchers, fellows and clinicians, including surgeons from Children's National showcased their findings. One of the posters developed by Meredith Rose, LGSW, ML, who works as an interventionist on a Children's National clinical research team, received special recognition in the Obesity Special Interest Group category.
One presentation reported on a total of 222 pediatric patients with severe obesity, which is defined as 120 percent of the 95th percentile for Body Mass Index. Mean age of the participants was 16 years of age, 71 percent were female and 80 percent where Hispanic or non-White. As part of their preparation for surgery, all patients were required to complete a pre-bariatric surgery psychological evaluation, including a clinical interview and Schedule for Affective Disorders and Schizophrenia (KSADS-PL) screening. The studies by the Children's teams were based on a medical record review of the pre-screening information. Adolescents being evaluated for surgery had high rates of mental health diagnoses, particularly anxiety and depression, but also included Attention Deficit Hyperactivity Disorder, eating disorders, and intellectual disability.
Another Children's presentation at the conference looked at weight loss outcomes for adolescents based on IQ and intellectual disability. Overall, neither Full Scale IQ from the Wechsler Abbreviated Intelligence Scale – 2nd edition, nor the presence of an intellectual disability predicted weight loss following surgery.
"The sum of our research found that kids do really well with surgery," said Eleanor Mackey, PhD, assistant professor of psychology and behavioral health. "Adolescents, regardless of the presence of intellectual disability areas are likely to lose a significant amount of weight following surgery," added Dr. Mackey.
"This is a particularly important fact to note because many programs and insurers restrict weight loss surgery to 'perfect' candidates, while these data points demonstrate that our institution does not offer or deny surgery on the basis of any cognitive characteristics," says Evan P. Nadler, M.D., associate professor of surgery and pediatrics. "Without giving these kids a chance with surgery, we know they face a lifetime of obesity, as no other intervention has shown to work long-term in this patient population. Our research should empower psychologists and physicians to feel more confident recommending bariatric surgery for children who have exhausted all other weight loss options."
The research team concluded that examining how individual factors, such as intellectual disability, psychiatric diagnoses, and demographic factors are associated with the surgery process is essential to ensuring adequate and empirically supported guidelines for referral for, and provision of bariatric surgery in adolescents. Next steps by the team will include looking into additional indicators of health improvement, like glucose tolerance, quality of life, or other lab values, to continue evaluating the benefits of surgery for this population.
https://innovationdistrict.childrensnational.org/wp-content/uploads/2017/07/tape-measure.jpg
300
400
Innovation District
https://innovationdistrict.childrensnational.org/wp-content/uploads/2018/11/idlogo1-tagline-Advances-in-Medicine.gif
Innovation District
2018-04-20 09:14:39
2021-07-06 13:33:39
Children's obesity research team presents compelling new findings