Children's National Health System advances sickle cell disease cure through Doris Duke Charitable Foundation grant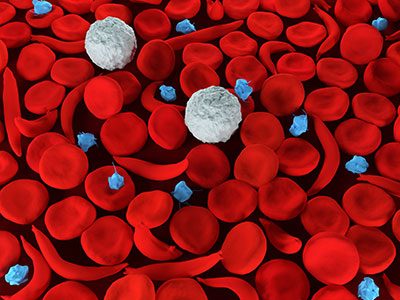 An innovative Children's National Health System project aimed at improving the only proven cure for sickle cell disease – hematopoietic cell transplantation – will receive more than $550,000 in funding from the Doris Duke Charitable Foundation's inaugural Sickle Cell Disease/Advancing Cures Awards, which provides grants to advance curative approaches for sickle cell disease. The study, a three-year, multi-center trial that will study a low intensity, chemotherapy-free transplantation approach to cure children with sickle cell disease using a matched related donor, is led by Allistair Abraham, M.D., blood and marrow transplantation specialist, and Robert Nickel, M.D., hematologist, and is one of seven projects receiving approximately $6 million total through the awards.
While transplantation using a matched sibling donor today has a high cure rate (>90 percent) for sickle cell disease, traditional transplant approaches have many risks and side effects in both the short and long term. The study will examine if a chemotherapy-free approach can lead to a successful transplant without resulting in graft-versus-host disease (GVHD). GVHD is one of the most challenging complications of a transplant, in which the transplant immune cells attack the patient's body. The researchers anticipate that this new transplant approach will be so well tolerated that patients' quality of life will be maintained and improved throughout the process, with most of the care administered in a clinic setting.
"This approach has proven to be effective for adults with sickle cell disease, so we are grateful for the opportunity to begin this important trial for children thanks to the Doris Duke Charitable Foundation," says Dr. Abraham. "Children with sickle cell disease are in need of innovative treatments, and we look forward to finding more solutions that improve the quality of life for these patients."
"Advancing treatment for sickle cell patients to the point where they can live free of the disease is our top priority," says Dr. Nickel, who is also an assistant professor of pediatrics at the George Washington University School of Medicine and Health Sciences. "This funding is critical to our study and it will accelerate the timeline to achieve the goal of a well-tolerated and safe cure for children with sickle cell disease."
Matthew Hsieh, M.D., who helped pioneer this work at the National Institute of Health in adults, and Greg Guilcher, M.D., who has used this transplant approach in children, are key collaborators on the project.
The study is projected to begin in December 2018 and continue for three years. The Comprehensive Sickle Cell Disease Program at Children's National is among the largest in the country, treating more than 1,400 children and young adults with all types of sickle cell disease. Children's National also offers the largest, most comprehensive blood disorders team in the Washington, D.C., area.
https://innovationdistrict.childrensnational.org/wp-content/uploads/2018/11/idlogo1-tagline-Advances-in-Medicine.gif
0
0
Innovation District
https://innovationdistrict.childrensnational.org/wp-content/uploads/2018/11/idlogo1-tagline-Advances-in-Medicine.gif
Innovation District
2017-10-10 10:08:13
2022-12-12 10:19:29
Children's National Health System advances sickle cell disease cure through Doris Duke Charitable Foundation grant