Bringing diabetes technology to patients and providers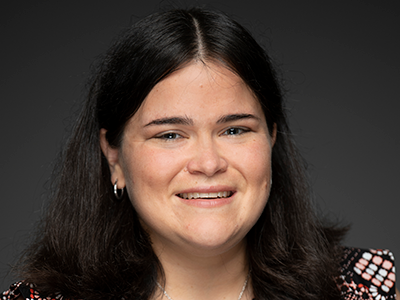 Brynn Marks, M.D., endocrinologist at Children's National Hospital, was diagnosed with Type 1 diabetes at the age of five years old and knows too well the struggles that may come with managing this chronic condition. After finding the right, knowledgeable provider as a teen, Dr. Marks realized that she wanted to become an endocrinologist and be that resource and support for others with Type 1.
Developments in diabetes technologies, including continuous glucose monitors (CGM) and insulin pumps, hold great promise for improving diabetes control while also improving quality of life for those living with Type 1. However, the pace of development also presents challenges for busy clinicians who must keep up with rapid developments in the field. Dr. Marks is focused on making sure patients and providers have the latest information and training on diabetes technologies with the goal that they can be more effectively used by more people in the real world.
"These diabetes technologies are very important for kids and teens with diabetes because they can help them to live life as normally as possible while affording the freedom they need to just be kids," says Dr. Marks.
Dr. Marks' recent research includes a study where she used an app to deliver medical education about diabetes technology. Participants received authentic, case-based scenarios focused on the technologies to help them apply knowledge of these technologies to real-world clinical scenarios involving insulin pumps and CGMs. All of the education was delivered through questions and explanations in an effort to keep the learners engaged with the curriculum. The questions were repeated over 3-4 months to improve learning and long-term knowledge retention. The study showed that knowledge and confidence about these technologies improved and ultimately led to better patient care.
Dr. Marks presented two posters at a recent International Society for Pediatric and Adolescent Diabetes (ISPAD) meeting related to her efforts to make these technologies more accessible:
Experiential Learning in T1D Technology Education: Knowledge of Parents and Clinicians: Dr. Marks enrolled different groups of learners in the diabetes technology curriculum mentioned above, including parents of children with Type 1 diabetes, attending physicians, pediatric endocrine fellows and certified diabetes educators. Results showed minimal difference among those groups in terms of knowledge about the pumps and CGMs. Interestingly, clinicians who had the opportunity to wear the technologies for educational purposes had greater knowledge than clinicians who did not have the same opportunity. Based on these results, Dr. Marks advocated that opportunities to wear pumps and CGMs should be a routine part of education for clinicians working with these technologies.
A Qualitative Analysis of Clinicians' Experiences Wearing CGM: Dr. Marks explored the reactions of clinicians without diabetes who were given the opportunity to wear continuous glucose monitors for 1 week. Participants reported that the opportunity to wear these technologies improved their knowledge and gave them greater empathy for patients using CGM.
Dr. Marks' work to date has identified strategies to improve knowledge about insulin pumps and CGM. Moving forward, she will continue to study the best ways to educate parents and clinicians about these diabetes technologies in hopes of improving the day to day lives of the children they care for.
https://innovationdistrict.childrensnational.org/wp-content/uploads/2019/12/Brynn-Marks.png
300
400
Innovation District
https://innovationdistrict.childrensnational.org/wp-content/uploads/2018/11/idlogo1-tagline-Advances-in-Medicine.gif
Innovation District
2019-12-18 11:42:34
2022-07-15 09:33:45
Bringing diabetes technology to patients and providers