The science behind optimal sleep health
As families and parents renew their interest in health in the new year, pediatricians can take advantage of this momentum by talking about one area absent from common New Year's resolutions lists: getting enough sleep.
Like diet, exercise and activities that keep your brain sharp, such as reading or learning a new language, healthful sleep patterns play a vital role in supporting physical health and cognitive performance – especially for children and teens.
Here are a few tips parents and pediatricians can use, based on research published by Daniel Lewin, Ph.D., a pediatric psychologist and sleep medicine specialist at Children's National Health System.
Understand how much sleep each child needs.
The typical range of recommended sleep, such as eight to 10 hours each night, varies for each child. A 16-year-old may do well with 8.5 hours of sleep, while a 6-year-old may need 13 hours of sleep to stay alert. Their body is still rapidly developing. The timing of sleep matters, too, due to a child's natural circadian rhythm. A chart below details sleep recommendations based on age.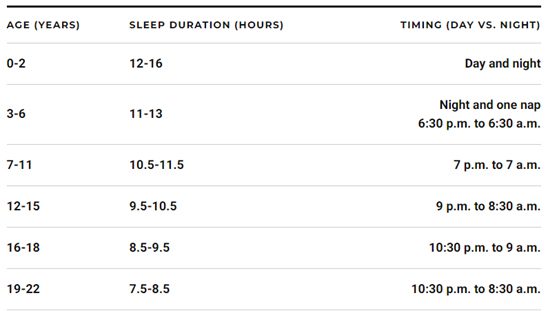 Turn a child's bedroom into a healthful sleep chamber.
Encouraging children to fall asleep by 7 or 9 p.m. may require planning – outside of maintaining regular sleep schedules. To start, make it easy to promote sound sleep by eliminating distractions, including clocks and electronic devices, which might sit next to a child's bed and distract him or her from getting a good night's sleep.
Reserve a designated area for homework and study hours outside of the bedroom, which helps reinforce that the bed is a place for sleep and rest. Avoid doing any complicated routines or activities that might cause excitement right before bed, such as assembling a new toy or playing a high-stakes game.
Follow the same rules for conversations: Don't have talks that might evoke excitement, like the next Disneyworld vacation, or stress, such as bringing the next day's spelling test up right before bed. By creating a calm zone, you'll avoid energizing the biological 'burst zone,' a rush of energy that occurs in short bursts before one prepares to rest for the night. Keep conversations and routines simple and soothing. Reading, stretching or practicing mindfulness and yoga are complementary activities children can practice at least 15 minutes before bedtime.
Schedule activities about circadian rhythms.
Understanding when a child sleeps best is just as important as understanding how much sleep is essential to support optimal health. A student in high school is biologically wired to stay up past 9 p.m. due to a later release of hormones that promote sleep. This is one reason some school systems are experimenting with later middle and high school start times, which, according to a review in the Journal of School Health, increases a student's chance of feeling 'wide awake' and alert in the classroom.
If you have control of your student's schedule, plan around it. For instance, schedule activities for a 17-year-old in the late morning, if possible, while allowing time in the afternoon for a young child to take a nap.
These starter tips serve as ways to strengthen sleep quality. Learn more about Dr. Lewin's research at PubMed, view a few of his blogs for parents at U.S. News & World Report and learn about the link between sleep and health at the National Institutes of Health. If you experience recurring problems, such as sleep apnea, insomnia, sleep walking, ongoing sleep disruptions or excessive daytime sleepiness, connect with a health care provider.
https://innovationdistrict.childrensnational.org/wp-content/uploads/2019/01/smiling-baby-sleeping.jpg
300
400
Innovation District
https://innovationdistrict.childrensnational.org/wp-content/uploads/2018/11/idlogo1-tagline-Advances-in-Medicine.gif
Innovation District
2019-01-07 10:43:17
2021-10-25 11:56:19
The science behind optimal sleep health