Asthma is associated with severe obstructive sleep apnea in children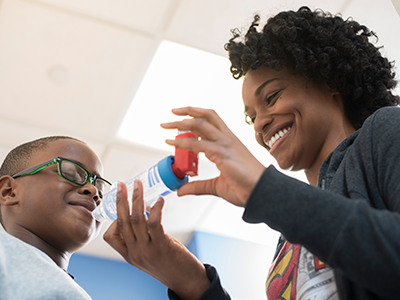 Pulmonologists have often observed a link between asthma and the need for continuous positive airway pressure treatment (CPAP) among children with severe obstructive sleep apnea syndrome (OSAS).
Now, research published in the March 2019 issue of the journal Pediatric Pulmonology confirms the correlation.
Four-hundred eligible children with severe OSAS were included in a randomized, controlled study that took place at Children's National Health System between September 2015 and June 2017. The mean age among study participants, ages 0 to 20, was 7.
Out of the 400 severe OSAS study participants, 113 children, about one-third, had asthma. Those with asthma were 29% more likely to require CPAP, compared to 14% of study participants without asthma. This association was independent of demographics, OSAS severity, obesity and a history of adenotonsillectomy, an operation to remove the tonsils.
"This is the first randomized, controlled study to test the association between asthma and CPAP among children with severe sleep apnea," says Gustavo Nino, M.D., a corresponding study author, a pediatric pulmonologist and the director of sleep medicine at Children's National Health System. "We've seen similar patterns in adults, but we needed to confirm the link in children to provide preventive screenings and personalized treatment."
Dr. Nino mentions the goal now is to detect symptoms earlier, whether this occurs at an annual wellness exam with a pediatrician or at the first visit with a sleep medicine specialist.
"The next step for our research team, or for others interested in this topic, is to explore how these factors influence each other," adds Dr. Nino. "Asthma itself is worse when you sleep. This leads us to wonder if obstructive sleep apnea exacerbates symptoms of asthma. Or could controlling asthma decrease the risk for CPAP therapy among children with severe obstructive sleep apnea?"
Until these questions have answers, Dr. Nino encourages pediatricians and specialists to keep the association in mind, especially since 7 million children nationwide have asthma, including 13,981 children in the District.
Parents should know that children who have severe obstructive sleep apnea and asthma are more likely to need extensive treatment, like CPAP, to maintain a positive flow of air to the nasal passages to keep the airway open.
Managing symptoms of asthma is also something parents can do at home, especially with the onset of spring asthma triggers, such as pollen, dust, dander, mold and smoke.
For help creating an asthma action plan, visit the Centers for Disease Control and Prevention.
https://innovationdistrict.childrensnational.org/wp-content/uploads/2019/04/child-using-inhaler-with-spacer.png
300
400
Innovation District
https://innovationdistrict.childrensnational.org/wp-content/uploads/2018/11/idlogo1-tagline-Advances-in-Medicine.gif
Innovation District
2019-04-10 15:41:14
2019-09-09 09:26:12
Asthma is associated with severe obstructive sleep apnea in children