Stephen J. Teach, M.D., MPH, inaugural holder of new endowed chair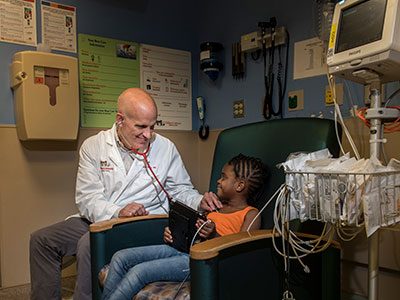 Stephen J. Teach, M.D., M.P.H., has been named the inaugural Wendy Goldberg Professor in Translational Research in Child Health and Community Partnerships. This professorship comes with an endowed chair at Children's National Health System.
The prestigious honor is given for the duration of Dr. Teach's (and future chair holders') employment at Children's National. The award's namesake, Wendy Goldberg, and her husband, Fred T. Goldberg Jr., are among the brightest stars in the constellation of Children's National supporters, says Dr. Teach, Associate Dean for Pediatric Academic Affairs and Chair of the Department of Pediatrics at The George Washington University School of Medicine & Health Sciences.
In addition to serving on many Children's boards, in the mid-2000s the Goldbergs made a $250,000 gift that benefited Improving Pediatric Asthma Care in the District of Columbia (IMPACT DC), Dr. Teach's award-winning program to improve clinical care, empower patients and families, and conduct new research to improve patients' outcomes.
"In recognition of the anchor aims of Children's new strategic plan, the Goldbergs wanted this new gift to focus on the intersection of community health and research," Dr. Teach says. "Thanks to their generosity, my team will work with community partners to use data to drive improvements in population health."
With the dedicated funding Dr. Teach was able to hire a new staffer, Caitlin Munoz, to help mine electronic health records to create disease-specific registries that include 15,000 children and adolescents – the lion's share of kids younger than 17 who live in Washington and have asthma.
"For the first time, we will be able to describe in granular detail the near-universe of local children who have this chronic respiratory disease," he says. "We will be able to describe many of the most clinically meaningful aspects of nearly every child with asthma who lives in D.C., including mean age, gender, ethnicity and mean number visits to the emergency department."
Such a richly textured database will help identify children who should be prescribed daily controller medications to help them avoid missing school days due to asthma exacerbations, he says. The next pediatric chronic disease they will track via registry will be pediatric obesity via elevated body mass index.
"That, in and of itself, is insightful data. But the enduring impact of this applied research is it will inform our continuous quality-improvement efforts," he adds.
By querying the registries the team will be able to tell, for example, how Children's primary care centers rank comparatively by asking such questions as which percentage of kids with asthma actually take the medicines they had been prescribed the year prior.
"Increasingly, clinical research falls into one of two buckets. You can either do better things: That's discovering new drugs or processes, like our ongoing clinical trial to desensitize kids to asthma allergens. Or, you can do things better. We often know what to do already. We know that guideline-based asthma care works well. We don't need to prove that again. We just need to do things better by getting this care to the kids who need it. That's where this line of research/quality improvement comes in: It's getting people to do things better."
https://innovationdistrict.childrensnational.org/wp-content/uploads/2017/02/StephenTeach-AsthmaExam.jpg
300
400
Innovation District
https://innovationdistrict.childrensnational.org/wp-content/uploads/2018/11/idlogo1-tagline-Advances-in-Medicine.gif
Innovation District
2018-10-10 10:59:54
2018-12-19 15:43:11
Stephen J. Teach, M.D., MPH, inaugural holder of new endowed chair