Speckle tracking echo reveals possible biomarker for SUDEP risk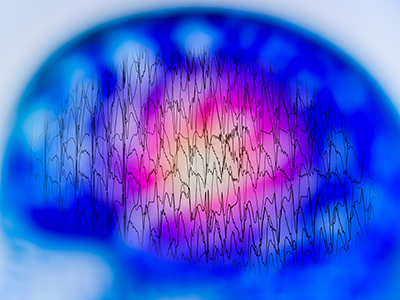 A study published in the journal Epilepsia used speckle tracking echocardiography to detect subtle changes in heart function found in pediatric patients with refractory epilepsy when compared to controls. Children with refractory epilepsy had impaired systolic ventricular strain compared to controls, not correlated to epilepsy history. These differences in ventricular function may be a biomarker that can indicate someone with epilepsy is at higher risk for Sudden Unexpected Death in Epilepsy (SUDEP).
Speckle tracking echocardiography is a non-invasive technique where software automatically identifies and tracks individual "speckles" of the myocardial wall on a routine echocardiogram in order to directly quantify the extent of contraction.
The study's first authors, John Schreiber, M.D., medical director of Electroencephalography (EEG) and director of the Epilepsy Genetics program, and Lowell Frank, M.D., advanced imaging cardiologist and director of the Cardiology Fellowship Training program, both at Children's National Hospital, answered some questions about the study findings.
Why is this important work?
Sudden unexpected death in epilepsy (SUDEP) is a rare but devastating consequence of epilepsy. Some of the proposed mechanisms of SUDEP implicate brain stem, cardiac and respiratory pathways.
This study identified alterations in ventricular function that may serve as one potential biomarker for SUDEP risk that can be evaluated non-invasively and regularly.
How will this work benefit patients?
Identification of children or adults with markedly impaired ventricular strain or diastolic function may provide the opportunity to implement a targeted treatment or monitoring strategy to prevent SUDEP.
What did you find that excites you? What are you hoping to discover?
These differences in cardiac strain were true for all patients with refractory epilepsy as a whole, not one particular group. This suggests that refractory convulsive epilepsy itself, rather than other patient-specific factors, produces these changes. Thanks in part to a grant from the Dravet Syndrome Foundation, the team is currently examining a cohort of patients with epilepsy due to pathogenic variants in sodium channel genes, SCN1A and SCN8A, to determine if these patients have greater degrees of impaired cardiac strain. SCN1A and SCN8A are also expressed in the heart, and patients have a considerably higher risk of SUDEP. It will be particularly exciting to examine for differences in specific genetic epilepsies.
How is this work unique?
Strain has been evaluated in many disease states in adult and pediatric populations and may be more sensitive to early myocardial damage than traditional measures of systolic and diastolic function. Children's National Hospital has been an innovator in using speckle tracking echocardiography and similar techniques to evaluate subtle changes in heart function. This study is a great example of collaboration between The Comprehensive Pediatric Epilepsy Program and the Children's National Heart Institute that is driving innovative research at Children's National Hospital.
https://innovationdistrict.childrensnational.org/wp-content/uploads/2020/11/EEG-with-electrical-activity-of-abnormal-brain.png
300
400
Innovation District
https://innovationdistrict.childrensnational.org/wp-content/uploads/2018/11/idlogo1-tagline-Advances-in-Medicine.gif
Innovation District
2020-11-09 12:51:32
2020-11-09 12:51:32
Speckle tracking echo reveals possible biomarker for SUDEP risk