Second dose of Pfizer COVID-19 vaccine safe for children with allergic reaction to first dose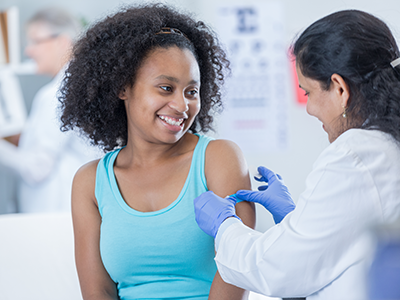 A new study published in The Journal of Allergy and Clinical Immunology: In Practice found that pediatric patients who experienced an adverse reaction to the first dose of the Pfizer-BioNTech COVID-19 vaccine or with suspected polyethylene glycol or polysorbate allergies can safely receive the second dose in a supervised setting. Until now, previous studies demonstrating second dose safety after a reaction to the first dose have only included adult patients.
"These results reaffirm similar studies performed in adults and provide additional assurance specific to the pediatric population," says Joel Brooks, D.O., M.P.H., allergist and immunologist at Children's National Hospital and corresponding author of the study. "We found that most of these initial reactions are not supportive of an IgE-mediated mechanism."
The researchers evaluated 13 children referred to a specialized vaccine clinic for suspected immediate allergic reactions to the first dose of the Pfizer-BioNTech COVID-19 vaccine from May 2021 to February 2022. Nine of the 13 children were evaluated after experiencing an allergic reaction following the first dose. All nine successfully received the second dose with no or minimal symptoms.
The other four children were evaluated after clinical histories of PEG/polysorbate allergy. Three of the four received both Pfizer vaccine doses with no symptoms. The fourth patient elected to receive the Janssen COVID-19 vaccine.
"It is important that children 6 months and older receive two doses of the COVID-19 vaccine for full protection from severe illness and hospitalization due to COVID-19 infection," adds Dr. Brooks. "Children with potential anaphylaxis should undergo careful evaluation to weigh the benefits and risks of the second dose."
You can read the full study, "Safety outcomes of SARS-CoV-2 vaccination in pediatric patients with a first dose reaction history or allergy to polyethylene glycol or polysorbate," here.
https://innovationdistrict.childrensnational.org/wp-content/uploads/2022/07/Girl-getting-a-vaccine.png
300
400
Innovation District
https://innovationdistrict.childrensnational.org/wp-content/uploads/2018/11/idlogo1-tagline-Advances-in-Medicine.gif
Innovation District
2022-07-13 16:21:39
2022-08-22 09:28:47
Second dose of Pfizer COVID-19 vaccine safe for children with allergic reaction to first dose