Longer concussion recovery in children connected to poor sleep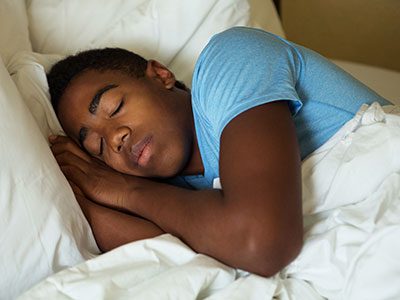 A new research study suggests that adolescents who get a good night's sleep after a sports-related concussion might be linked to a shorter recovery time.
Research presented at the American Academy of Pediatrics Conference in Orlando, Fla., concluded that young athletes who slept well after a concussion were more likely to recover within two weeks, while those that didn't receive a good night's rest increased their likelihood to endure symptoms for 30 days or more.
The design and method was observational, where sleep factors and recovery are examined in association with each other. While the design does not allow a strong causal relationship to be established, it does not report control of other possible mediating variables, its sample size and strength of the findings are strongly suggestive, and provide a rationale for further study of sleep as a critical factor in recovery.
According to Gerard Gioia, Ph.D., chief of the Division of Pediatric Neuropsychology at Children's National Health System, clinicians should ensure that sleep is properly assessed post-concussion and appropriate sleep hygiene strategies should be provided to the patient and family.
The average age of the 356 participants in the study was 14. Researchers conducting the study had the participants complete a questionnaire called the Pittsburgh Sleep Quality Index. Based on the answers reported, the teens were grouped into two categories: 261 good sleepers and 95 poor sleepers.
"The study highlights the importance of sleep, a critical factor in the recovery from a concussion," says Dr. Gioia, "These findings are highly consistent with our own clinical experience in treating children and adolescents with concussions in that poor sleep are a significant limiting factor in recovery."
During the follow-up visits three months later, both groups of patients had improved, however the good sleepers continued to have significantly better symptoms and sleep scores.
https://innovationdistrict.childrensnational.org/wp-content/uploads/2019/02/Teenage-boy-sleeping-masonry.jpg
300
400
Innovation District
https://innovationdistrict.childrensnational.org/wp-content/uploads/2018/11/idlogo1-tagline-Advances-in-Medicine.gif
Innovation District
2019-02-22 10:41:02
2019-02-22 10:41:02
Longer concussion recovery in children connected to poor sleep