Kids' resilience pushes neurologist to seek better therapies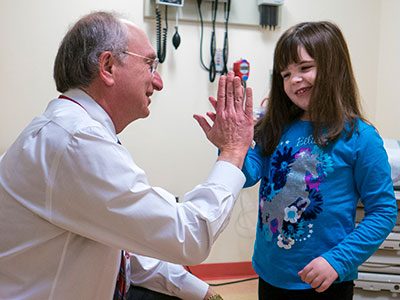 "I get strength from kids and families, strength like that shown by Nick and his family," answered Roger Packer, M.D., when Quicken Loans owner Dan Gilbert asked how he copes with the stress of seeing children struggling with brain tumors and other neurological problems every day.
Dr. Packer, senior vice president of the Center for Neuroscience and Behavioral Medicine at Children's National Health System, joined Mr. Gilbert and his son, Nick, who was treated for neurofibromatosis at Children's National, for a panel discussion at the recent Crain's Health Care Heroes event. The discussion focused on Nick Gilbert, now a college student, and how he has stayed positive while undergoing intense treatments for neurofibromatosis since he was 15 months old.
Dr. Packer met Nick at age 10, when he first came to Children's National for its world-renowned expertise in neurofibromatosis research and care. After their experiences, the Gilberts generously supported the creation of the Gilbert Family Neurofibromatosis Institute at Children's National Health System to continue research into new and innovative treatments for the disorder.
Mr. Gilbert credits Dr. Packer with taking on difficult cases and having a positive impact on both Nick and himself. "When other doctors give up on patients, he intervenes with magic and saves lives."
The reason, according to Dr. Packer, is that kids like Nick "don't want to give up." Thankfully, he notes, better tools to treat diseases like cancer and neurofibromatosis have finally arrived. "There are remarkable advances that were not possible five years ago," he said.
The full session at the Health Care Heroes event was featured in Crain's Detroit Business.
https://innovationdistrict.childrensnational.org/wp-content/uploads/2017/12/Roger-Packer-with-Olivia-Enos.jpg
300
400
Innovation District
https://innovationdistrict.childrensnational.org/wp-content/uploads/2018/11/idlogo1-tagline-Advances-in-Medicine.gif
Innovation District
2017-12-05 12:25:45
2020-12-09 09:29:06
Kids' resilience pushes neurologist to seek better therapies