Kids' headaches can be disruptive. We need solutions.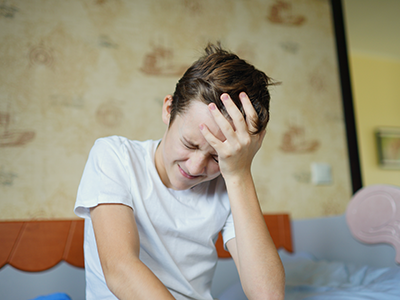 Experts leading the Headache Program at Children's National Hospital recognize how common these disorders are. They also know how disruptive they can be in the day-to-day of children.
Marc DiSabella, D.O., is the director of the program. He is currently leading five pediatric headache trials. In this Q&A, he tells us about the ongoing trials, offering insight into innovative solutions and how he's carving a new path to improve the quality of life of his patients.
Q: How has your team advised other neurologists on innovative care for patients with headaches that have been refractory to medicines?
A: We receive referrals from outside institutions when they need additional input for diagnostic and management options. We receive patient consult requests from around the country – and sometimes out of the country – to help improve symptoms. In most instances, these headaches tend to be difficult to control and do not respond to available medications. We really try to take a holistic approach to their care, and use treatments in parallel. For example, diagnostic, lifestyle techniques, medications, pain focused cognitive behavioral therapy and physical therapy. We also use complementary medicine as needed, such as acupuncture, injections and infusions.
Q: It is unusual for neurology divisions to run multiple pediatric trials focused on headaches. You are currently leading five that are open. How does this work move the field forward?
A: The medications we offer through our trials allow us to offer treatments that would otherwise not be available to pediatric patients. We do this in hopes of providing them relief while advancing the field. We are hopeful that these new therapies are as effective in pediatrics as they have shown to be in adults. But it is necessary to complete randomized clinical trials to prove this is the case. Historically, pediatric patients in clinical trials investigating painful conditions like migraines have had a disproportionately high placebo response rate. This means even the patients receiving a benign placebo have a high chance of symptom improvement. The newer medications show much better tolerability to the drugs used historically.
Q: What excites you about this work?
A: Pediatric pain disorders are unbelievably gratifying to treat because we take a mysterious disorder that waxes and wanes with no clear reason and give patients back control of their lives. It is extremely frustrating for a patient and their family to know that their day-to-day life can be abruptly derailed by a pain crisis. We work to provide them with several tools they can use daily to take back their lives.
Q: How is this work unique?
A: Our program was created organically over the years through our experiences with our patients. First, we noticed the disruption to patients' personal and school performance from having untreated pain and recognized the need for pain psychology. Then, we expanded to have physical therapy to recondition patients and perform desensitization. Finally, we recognized our patients need additional medication options not offered through the standard of care. So, we expanded to open our various clinical trials, including those with pharma and internal protocols. As a result, we incorporated the use of Botox injections, for example, and soon will use a novel remote electro-neuromodulatory device.
https://innovationdistrict.childrensnational.org/wp-content/uploads/2022/02/kid-with-headache.png
300
400
Innovation District
https://innovationdistrict.childrensnational.org/wp-content/uploads/2018/11/idlogo1-tagline-Advances-in-Medicine.gif
Innovation District
2022-02-08 15:46:10
2022-02-11 10:11:15
Kids' headaches can be disruptive. We need solutions.