Addressing health equity issues through an app innovation competition
Children's National Hospital launches The Health Equity in Research Hackathon — a team-based collaborative competition that empowers researchers to address health equity issues in the community through innovative apps. A panel of expert judges will select winning app ideas for full development, including finding grant opportunities, access to mentors and collaborators.
The big picture
"This Hackathon is a great chance for our research community to address larger issues related to advancing health equity within translational and clinical research," said Patrick O'Keefe, administrative director for the Clinical and Translational Science Institute at Children's National (CTSI-CN). "We are thrilled to see how people collaborate to create solutions for big problems that have traditionally slowed research and contributed to the vast inequities in health we see today."
Additional details
The 2022 hackathon will be a two-part event. During Part I, slated for June 17, participants will gather in diverse teams to discuss and refine the selected app ideas. They will learn from technical and scientific experts and brainstorm app-based approaches to address health equity.
Each team will pitch their ideas to a panel of judges, and the winning app(s) will advance to Part II of the hackathon planned for Fall 2022, where app developers will build the selected apps.
"We encourage anyone at Children's or George Washington University to submit an app idea – even if it is not fully formed — as long as they think it would help reduce health disparities through improving the research process," said Lisa Guay-Woodford, M.D., director for Clinical and Translational Science Institute and Center for Translational Research at Children's National. "We also hope researchers, staff and students who don't have app ideas at this time will consider attending anyway to participate in the lively development process of the Hackathon."
Anyone within the Children's National and George Washington University research communities can submit an app idea for consideration. No app development experience is necessary to enter.
Why it matters
Health equity also means bringing the community into the research process. Thus, in part II, Children's National will partner with high schools and universities in the area to incorporate voices who are often under-represented in the science and technology field.
"Our community is home to brilliant young minds at our local high schools and universities," said Chaya Merrill, Dr.P.H., director for Child Health Data Lab at Children's National. "We are excited to create an opportunity for them to work alongside experienced app builders – at the intersection of health equity and technology – by engaging in Part II of the Hackathon to build the winning apps!"
The hackathon will take place at Children's Research and Innovation Campus in partnership with CTSI-CN and the Center for Translational Research.
The app idea submission deadline is on May 20, 2022, by 5pm. You may apply here. If you have questions about completing this submission, please email Patrick O'Keefe at pokeefe@childrensnational.org.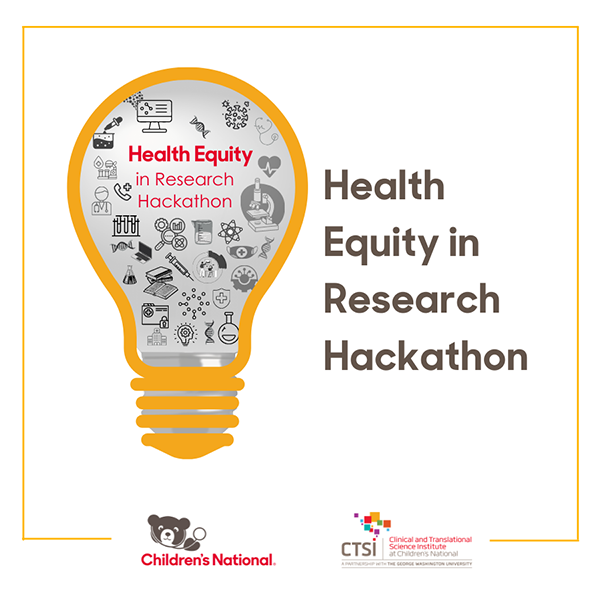 https://innovationdistrict.childrensnational.org/wp-content/uploads/2022/05/2022-Hackathon-featured.png
385
685
Innovation District
https://innovationdistrict.childrensnational.org/wp-content/uploads/2018/11/idlogo1-tagline-Advances-in-Medicine.gif
Innovation District
2022-05-11 09:57:05
2022-05-17 12:33:43
Addressing health equity issues through an app innovation competition