Clinical Trial Spotlight: Is more really better? Dose escalation of multi-antigen targeted T cells to illicit a more robust response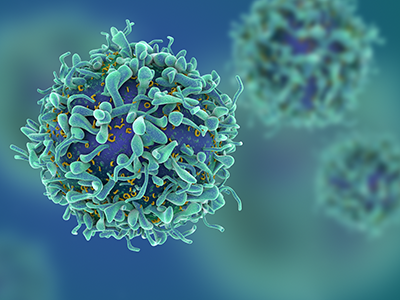 As the promise of immunotherapy in treating patients with cancer becomes more evident, physician researchers at Children's National are pushing the needle further along. Holly Meany, M.D., is leading a Phase 1 dose-escalation trial to determine the safety and efficacy of administering rapidly generated tumor multi-antigen associated specific cytotoxic T lymphocytes (TAA CTL) to patients who have undergone allogeneic hematopoietic stem cell transplantation (HSCT) or traditional therapy for a high-risk solid tumor due to the presence of refractory, relapsed and/or residual detectable disease.
"In the escalation portion of our trial, we found that the highest dose evaluated did not have unfavorable toxicity in these patients and is our recommended dose," Dr. Meany said. "Our next step is an expansion of the trial in five distinct disease categories – Wilms tumor, neuroblastoma, rhabdomyosarcoma, adenocarcinoma and esophageal carcinoma – to examine efficacy on a broader level at the recommended dose."
Dr. Meany and fellow research clinicians at Children's National will evaluate not only what happens to the patients when given the additional dosage, but also what happens to the cells – How long will they last? Will they remain targeted against the same antigens or will they shift to target other proteins?
This novel trial is currently enrolling patients at Children's National Health System in Washington, D.C.
Title: Research Study Utilizing Expanded Multi-antigen Specific Lymphocytes for the Treatment of Solid Tumors (REST)
Status: Currently enrolling
For more information about this trial, contact:
Holly Meany, M.D.
202-476-5697
hmeany@childrensnational.org 
Click here to view Open Phase 1 and 2 Cancer Clinical Trials at Children's National.
The Children's National Center for Cancer and Blood Disorders is committed to providing the best care for pediatric patients. Our experts play an active role in innovative clinical trials to advance pediatric cancer care. We offer access to novel trials and therapies, some of which are only available here at Children's National. With research interests covering nearly aspect of pediatric cancer care, our work is making great advancements in childhood cancer.
https://innovationdistrict.childrensnational.org/wp-content/uploads/2019/06/T-cell.png
300
400
Innovation District
https://innovationdistrict.childrensnational.org/wp-content/uploads/2018/11/idlogo1-tagline-Advances-in-Medicine.gif
Innovation District
2019-06-12 09:57:00
2019-09-04 11:32:27
Clinical Trial Spotlight: Is more really better? Dose escalation of multi-antigen targeted T cells to illicit a more robust response