First infants in the U.S. with specially modified pacemakers show excellent early outcomes
In 2022, five tiny, fragile newborns with life-threatening congenital heart disease affecting their heart rhythms were the first in the United States to receive a novel modified pacemaker generator to stabilize their heart rhythms within days of birth.
An article in the journal Heart Rhythm assesses the outcomes to date for the infants who received pacemakers that were modified to work better in the smallest children who need them. The authors, including first author Charles Berul, M.D., chief of Cardiology at Children's National Hospital, share that after following for between 6 and 9 months, "early post-operative performance of this device has been excellent."
The big picture
Even the tiniest pacemakers and defibrillators on the market today aren't small enough for infants and young children with heart rhythm abnormalities. So, for several years, Dr. Berul and colleagues at several other institutions have collaborated to adapt existing pacemakers, including the Medtronic Micra leadless pacing system, for use in tiny, critically ill newborns.
The specially modified pediatric-sized implantable pulse generator, called the Pediatric IPG, includes a Medtronic Micra sub-assembly that connects to an epicardial lead. While this makes the leadless pacemaker into one that uses leads, the resulting IPG is significantly smaller than any commercially available pacemaker previously on the market in the U.S.
The five infants in this case profile each received the modified Pediatric IPG at four separate institutions, and each surgery to implant the device was performed by a different cardiac surgeon. Two of the five cases were cared for at Children's National. Cardiac surgeons Can Yerebakan, M.D., Ph.D., and Manan Desai, M.D. each performed one procedure.
The Pediatric IPG was authorized for use by emergency use exemptions from the federal Food and Drug Administration and with review and approval by each hospital's Institutional Review Board, based on successful laboratory and pre-clinical models with favorable, though limited, results.
The patient benefit
All five infants were diagnosed with congenital complete heart block and required urgent pacing immediately after birth. The authors write:
"Permanent pacing in adults and older children is a routine, relatively simple implantation procedure. In the smallest of children, however, the generator is typically placed in the abdomen and can still present challenges in tiny babies under 2.5kg due to its bulk and dimensions, with risks of wound dehiscence, generator erosion and other complications."
The authors note that the smaller profile of the Pediatric IPG reduces and has the potential to eliminate some of these challenges.
What's next: Better delivery
Innovating smaller devices, including adapting current technology like the Medtronic Micra for pediatric use, is a good start but won't be enough to eliminate some of the challenges for these patients. When a newborn or young child needs any pacemaker or defibrillator, they face open chest surgery. Their arteries and veins are just too small for even the smallest size transvenous pacemaker catheter.
That's why Dr. Berul and engineers in the Sheikh Zayed Institute for Pediatric Surgical Innovation are working on a first-of-its-kind minimally invasive pericardial access tool. The team hypothesizes that this tool will allow for pacing and defibrillation therapy to be delivered through a single small port inserted through the skin that is about the size of a drinking straw.
You can read the full article Creative Concepts: Tiny Pacemakers for Tiny Babies in the journal Heart Rhythm.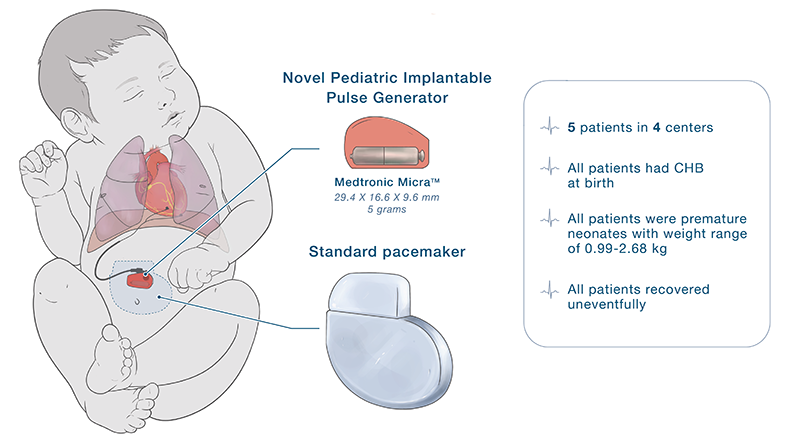 https://innovationdistrict.childrensnational.org/wp-content/uploads/2023/03/x-ray-showing-tiny-pacemaker-feature.png
300
400
Innovation District
https://innovationdistrict.childrensnational.org/wp-content/uploads/2018/11/idlogo1-tagline-Advances-in-Medicine.gif
Innovation District
2023-03-15 09:54:01
2023-03-15 09:56:34
First infants in the U.S. with specially modified pacemakers show excellent early outcomes