Collaborative approach to NICU care leads to improved quality and safety across hospitals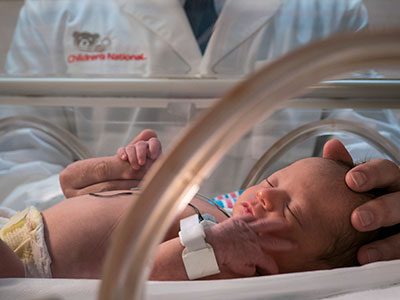 Parents with sick or premature newborns want and need the best care possible, making quality and safety in the neonatal intensive care unit (NICU) a top priority. Over the past decade, Children's National Health System has provided top quality NICU care to the Washington, D.C. community and surrounding areas. As part of this commitment, the institution developed an extensive network of partnerships in the Mid-Atlantic region where Children's National neonatologists and advanced practice providers collaborate with other hospitals in the region to share best practices in the NICU.
Together, Children's National and partner hospitals aim to improve NICU care for patients and families. To carry out this commitment, Children's National neonatologists fully integrate themselves into local community hospitals to provide services such as neonatal care, delivery room attendance, consultations to obstetricians and local pediatricians, and serve as educators to the hospital team.
Integrating pediatric specialists into community hospitals that treat both adults and children helps strengthen the infrastructure and refine practices to specifically understand pediatric biology and development to enhance existing care. Using the Dyad leadership model, the team forms interdisciplinary care committees, led by a physician and nursing champion, to empower everyone who interacts with the NICU and has a stake in a child's care. All policies and procedures are vetted by these committees to ensure high-quality, cohesive care for the patient.
Through this collaboration, Children's National neonatologists oversee newborn care for more than 10,000 births per year. Outcomes include:
Partner NICUs consistently perform in the top quartile for key performance benchmarking measures in national networks.
Partner NICUs have lower than predicted rates of morbidity, infection, lung disease and necrotizing enterocolitis which are major determinants in overall neonatal outcome.
Based on this success, Children's National created the Division of Pediatric Outreach in 2017, led by Brian Stone, M.D., M.B.A. This division focuses on ensuring that neonatal and pediatric patients have access to and can receive expert care from Children's National specialists in their local community birth hospital. Additionally, the division works closely with local obstetricians and maternal-fetal-medicine specialists to develop birth and post-natal plans for high-risk pregnancies to ensure that newborns have the best possible start.
"Over the years, we have been able to leverage our internal expertise as reflected in our current number one ranking in U.S. News & World Report and extend the same high level of care to patients born within our extended network to improve population health as a whole within the region," said Dr. Stone.
https://innovationdistrict.childrensnational.org/wp-content/uploads/2018/05/Brian-Stone-with-baby.jpg
300
400
Innovation District
https://innovationdistrict.childrensnational.org/wp-content/uploads/2018/11/idlogo1-tagline-Advances-in-Medicine.gif
Innovation District
2018-05-10 14:34:19
2021-10-25 11:56:09
Collaborative approach to NICU care leads to improved quality and safety across hospitals