Winners of the first annual Bear Institute PACK Event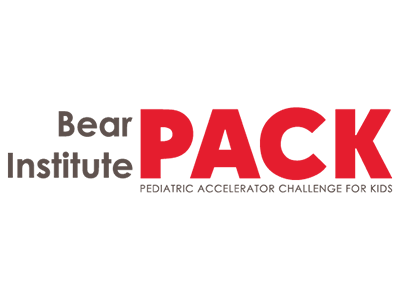 On August 26, 2021, the Bear Institute, along with Children's National Hospital and Cerner Corporation, hosted the first annual Bear Institute PACK (Pediatric Accelerator Challenge for Kids). Bear Institute PACK is a start-up competition aimed to address the gap in digital health innovation funding dedicated to children.
"Children are a unique population that requires different health solutions than those designed for adults, which address their unique needs," says Dr. Lu de Souza, Vice President and Chief Medical Officer, Cerner Corporation. "With Bear Institute PACK, we hope to increase focus and delivery of digital health innovations for kids. Bear Institute PACK brings together the pediatric health care community, including pediatric health care providers and hospital administrators from across the country to identify top start-up digital applications that best serve children."
This year's start-up participants competed across four innovation tracks, including rare disease, telemedicine, remote patient monitoring and patient education. Student teams competed in a separate student track. Bear Institute PACK consists of three rounds of judging: an initial review of applications from the Bear Institute PACK team, judging from participating pediatric healthcare providers and administrators and review from an expert panel of judges during finalist start-ups' live pitches.
The start-ups competed for a rich prize pool, including cash prizes totaling over $100,000, on-site pilots and software development support. Winners were selected in each of the event's four innovation tracks, as well as an additional two student team winners. This year winners are:
In the rare disease track, first place winner, Bloom Standard, Inc., with its solution Automated Ultrasound Wrap that screen infants and children for serious lung and cardiac conditions, and second place winner, Mira Medical LLC, with its solution Bear Growth: A Three-Dimensional Pediatric Growth Modeling App.
In the telehealth track, Keriton, Inc., with its solution Keriton Kare, a healthcare SaaS platform built to improve outcomes for neonatal and pediatric patients.
In the remote patient monitoring track, Sonavi Labs, with its solution Feelix, a platform that features proprietary hardware embedded with clinically validated diagnostic software capable of detecting respiratory diseases.
In the patient education track, Smileyscope, with its comprehensive virtual reality (VR) platform to help support patients with procedural pain management, drug-free anxiety care, education, and guided relaxation.
Student team first place winner, CASP Technologies, with its solution Operation Serenity, which allows pediatric patients to prepare for and understand their simulated surgery to reduce anxiety and second place winner, Ankle Rehab, with its solution Foot Joystick for Children with Cerebral Palsy meant to improve mobility.
More information on this year's winners can be found on the Bear Institute PACK website.
"This year's Bear Institute PACK had a lot of start-ups and student team participants with very impressive innovation solutions for kids. Selecting a single winner in each innovation track was a tough decision, and it was encouraging to see all the work being done to bring these solutions to market," says Matt MacVey, Vice President and Chief Information Officer, Children's National Hospital. "Thank you to everyone who participated and helped make the inaugural Bear Institute PACK a success! We hope to make next year even bigger as we continue to strive to close the gap in funding for children's digital health innovation."
More information on next year's event will be forthcoming on the Bear Institute PACK website.
https://innovationdistrict.childrensnational.org/wp-content/uploads/2021/08/PACK-logo.png
300
400
Innovation District
https://innovationdistrict.childrensnational.org/wp-content/uploads/2018/11/idlogo1-tagline-Advances-in-Medicine.gif
Innovation District
2021-08-27 16:05:32
2021-08-27 16:05:32
Winners of the first annual Bear Institute PACK Event