William D. Gaillard, M.D., named as first endowed Professor of Epilepsy and Neurophysiology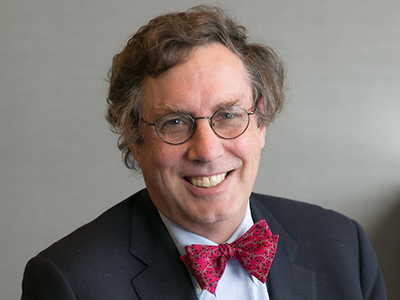 Children's National Hospital named William D. Gaillard, M.D., as the hospital's first endowed Professor of Epilepsy and Neurophysiology.
Dr. Gaillard serves as Division Chief of Child Neurology, Epilepsy and Neurophysiology, Director of the Comprehensive Pediatric Epilepsy Program and Associate Director of the Center for Neuroscience Research at Children's National Hospital. He also is Professor of Pediatrics and Neurology at the George Washington University School of Medicine, Professor of Neurology at Georgetown University and Adjunct Professor of Hearing and Speech Sciences at the University of Maryland, College Park.
About the award
Dr. Gaillard joins a distinguished group of 42 Children's National physicians and scientists who are endowed chairs. Professorships at Children's National advance groundbreaking work on behalf of children and their families and foster new discoveries and innovations in pediatric medicine. These prestigious appointments carry honor and reflect the recipient's achievements and donor's forethought to advance and sustain knowledge.
Dr. Gaillard is an internationally recognized expert in advanced structural and functional imaging, with a focus on examining the effects of epilepsy on brain structure and function. His pioneering work with functional imaging has changed clinical practice for patients with epilepsy, impacted structural and functional imaging methods and provided fundamental insights on brain plasticity. Dr. Gaillard's research is improving patient outcomes and the lives of children with epilepsy.
Donors Betsy Williams and Tom Moore, through their vision and generosity, will ensure that Dr. Gaillard and future holders of this professorship can launch bold, new initiatives to rapidly advance the field of pediatric epilepsy and neurophysiology, elevate our leadership and improve the lifetimes of children with epilepsy and seizure disorders.
"This Professorship is a great honor and opportunity for our team and for the future of pediatric epilepsy medicine," says Dr. Gaillard. "Thanks to Betsy, Tom and the Hess Foundation's generosity, we can continue to invest in people and programs that show promise. We can have the flexibility to respond to the needs of our current patient families and prepare for those that will need us tomorrow. We are forever grateful."
About the donors
Betsy and Tom are parents, members of the Epilepsy Council at Children's National and long-time supporters. To acknowledge their gratitude and respect for Dr. Gaillard and the comprehensive team he's built, the Professorship will be named for Dr. Gaillard in the future.
https://innovationdistrict.childrensnational.org/wp-content/uploads/2020/01/William-Gaillard.png
300
400
Innovation District
https://innovationdistrict.childrensnational.org/wp-content/uploads/2018/11/idlogo1-tagline-Advances-in-Medicine.gif
Innovation District
2022-06-30 06:47:58
2022-09-23 12:34:51
William D. Gaillard, M.D., named as first endowed Professor of Epilepsy and Neurophysiology