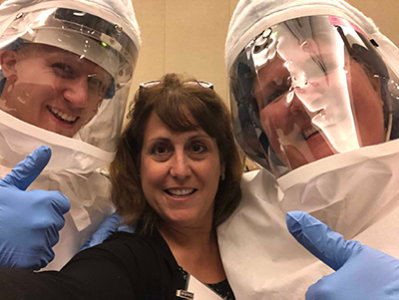 An ongoing outbreak of Ebola virus since 2018 in the Democratic Republic of the Congo that has resulted in millions of travelers being screened at checkpoints, hundreds of thousands of vaccinations and thousands of deaths is a stark reminder of the need to remain one step ahead of the deadly disease.
To that end, one-half dozen personnel from Children's National in Washington, D.C., including infectious diseases experts, critical care nurses and laboratory personnel traveled to New York in mid-August for an interactive workshop sponsored by the National Ebola Training and Education Center. They covered how to correctly don and doff protective gear, safely collect, handle and process specimens and discuss the special circumstances that arise when caring for pediatric patients, among other topics.
"Since 2014, Children's National has evaluated 6 children with exposure as Persons Under Investigation of  Ebola virus disease, 4 of  whom required extended inpatient hospitalization under full isolation precautions," says Roberta L. DeBiasi, M.D., MS, chief of the Division of Pediatric Infectious Diseases. "As a designated Ebola Treatment Center, we must continue our preparedness to care for additional patients with suspected and proven Ebola infection.
"Hands-on training and  drilling offer Children's National personnel an opportunity to continue to test, evaluate and optimize our institutional Ebola response plan and procedures to maintain our preparedness for the needs of future patients," adds Dr. DeBiasi.
In addition to Dr. DeBiasi, members of the Children's National Special Pathogens Isolation Unit team who attended the Emerging Infectious Disease Workshop included:
Zohreh Hojjati, Laboratory Medicine.
Kristin Elizabeth Mullins, Clinical Lab Director, Laboratory Medicine.
Daniel Schroeder, Registered Nurse II, Pediatric Intensive Care Unit (PICU).
Melissa Taylor, Registered Nurse II, PICU.
Heather Wellman, Registered Nurse II, PICU.
"Among the keys to Children's National serving as a national exemplar for pediatric Ebola care, is the stability of our multidisciplinary care team and our institutional commitment to ongoing training," Dr. DeBiasi adds.
During a Grand Rounds presentation at Children's National in mid-August, Dr. DeBiasi provided updates about recent global infectious disease outbreaks affecting pediatric patients including Ebola, measles, acute flaccid myelitis and Zika Virus. An interdisciplinary panel of Children's National experts, including nurses, transport specialists, infectious disease and intensive care experts directly involved in caring for Ebola Persons Under Investigation, demonstrated personal protective equipment and fielded questions from staff. The overview also outlined Children's National institutional expertise and response, including the Congenital Zika Virus Program, the Acute Flaccid Myelitis Task Force, the Special Isolation Unit for Ebola and other highly contagious infectious diseases.
https://innovationdistrict.childrensnational.org/wp-content/uploads/2019/08/Ebola-training-2019_1.png
301
400
Lauri Pantos
https://innovationdistrict.childrensnational.org/wp-content/uploads/2018/11/idlogo1-tagline-Advances-in-Medicine.gif
Lauri Pantos
2019-08-20 21:07:16
2022-05-09 10:49:34
Staying one step ahead of deadly Ebola