#thisisourlane: Pediatricians call for safer firearm storage, enhanced research funding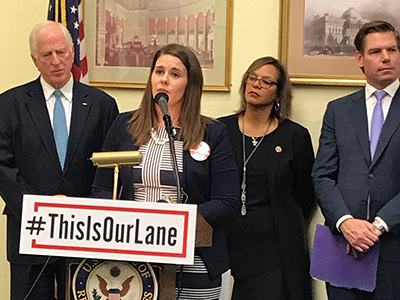 The 2-year-old scampered unexpectedly into a room, startling a family member. Thinking the toddler was an intruder, the family member fired, hitting the child in the chest.
In the emergency department at Children's National Health System, Lenore Jarvis, M.D. MEd, FAAP, emergency medicine specialist, and colleagues tried to save the boy's life, inserting tubes, transfusing blood and attempting to restart his dying heart via CPR. The Children's team was unsuccessful and emerged covered in the blood of a boy whose death was heartbreaking and preventable.
"Firearm violence is a leading cause of childhood traumatic death and injury," Dr. Jarvis told attendees of a recent congressional news conference intended to prod the incoming Congress to take more concrete action to prevent firearm violence. She provided snapshots of some of the countless lives of local youths cut short by firearms, including an 8-year-old girl killed on a playground in a drive-by shooting, a 13-year-old young man murdered during a fight, a 15-year-old young woman who committed suicide and an entire family who died from firearm injuries.
"I wish it were not so. But these stories are endless. In our emergency department, the effects of gun violence are frequent, life-altering and personal," Dr. Jarvis said.
The #ThisISOurLane press conference, convened by U.S. Rep. Robin Kelly, (D-Illinois), included haunting stories by clinicians from across the nation about the devastating impact of firearm injuries on children and youth. According to a retrospective, cross-sectional study led by Children's researchers, younger children are more likely to be shot by accident, and odds are higher that older youths are victims of an assault involving a firearm.
"Gun violence is a public health crisis and should be addressed as such. We need to reduce the numbers of suicides, homicides and accidental gun deaths in children," added Dr. Jarvis, who also is president-elect of the District of Columbia Chapter of the American Academy of Pediatrics.
During the news conference, U.S. Rep. Frank Pallone Jr., (D-New Jersey), vowed that the House Energy and Commerce Committee he chairs this session will move forward languishing bills, including funding the Centers for Disease Control Prevention to conduct firearms violence research.
https://innovationdistrict.childrensnational.org/wp-content/uploads/2019/01/Lenore-Jarvis-at-thisisourlane-meeting.jpg
300
400
Innovation District
https://innovationdistrict.childrensnational.org/wp-content/uploads/2018/11/idlogo1-tagline-Advances-in-Medicine.gif
Innovation District
2019-01-08 10:33:26
2019-07-19 10:55:35
#thisisourlane: Pediatricians call for safer firearm storage, enhanced research funding