Posts
https://innovationdistrict.childrensnational.org/wp-content/uploads/2019/09/Rabies-virus-feature.png
300
400
Innovation District
https://innovationdistrict.childrensnational.org/wp-content/uploads/2018/11/idlogo1-tagline-Advances-in-Medicine.gif
Innovation District
2019-09-10 13:46:40
2019-09-10 14:48:14
Critters bugging! Test your infectious disease knowledge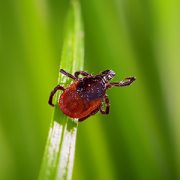 The summer of 2018 was a bad summer for Lyme disease, the tick-borne disease that was first documented in the 1970s in the town of Lyme, Connecticut. While about 30,000 cases of this disease had been reported annually in recent years, studies suggest that the actual number of infections is around 10 times greater.
And according to a study published May 2018 by the Centers for Disease Control and Prevention (CDC), those case numbers may increase over time. Over a 13-year period that began in 2004, cases of illness transmitted by ticks, mosquitoes and fleas have more than tripled, the CDC found.
Lyme disease causes a host of uncomfortable symptoms, ranging from headache and neurological problems, heart problems and eye inflammation in earlier stages, and progressing to joint pain and arthritis in later stages. While it can be treated successfully with appropriate antibiotics, the timeframe for kids' symptom resolution has been unclear.
A new study by researchers at Children's National Health System shows that symptoms improve just days or weeks after starting antibiotic therapy for the vast majority of patients, with people whose symptoms had been present a briefer time improving the fastest.
"These findings offer a reassuring timeline for doctors, patients and their families about when patients with Lyme disease can expect to feel better," says study Senior Author Roberta L. DeBiasi, M.D., MS, Children's National's chief of the Division of Pediatric Infectious Diseases and co-director of the Congenital Zika Virus Program. Dr. DeBiasi was recently appointed to serve on a 52-member Tick-Borne Disease Working Group established in 2018 by the Department of Health and Human Services.
Dr. DeBiasi and colleagues collected data retrospectively from the medical records of 78 patients who had been hospitalized at Children's National for Lyme disease from 2008 to 2015. Each child, who was younger than 18 years old, had documented symptoms and lab tests conclusive for this disease.
Just under one-half had symptoms consistent with early-stage disease, such as:
A severe headache
Meningitis (inflammation of the membranes covering the brain)
Cranial nerve palsy (a nerve dysfunction that affects eye movement and can cause double vision)
Multiple erythema migrans rashes (the bulls-eye-shaped rash that's a hallmark of Lyme disease) and
Pseudotumor cerebri (increased pressure inside the skull).
Just over one-half had symptoms consistent with late-stage disease, which mostly consisted of arthritis affecting the knees, along with the hips and elbows in some cases.
In the hospital, each patient was started on an antibiotic that can effectively treat Lyme, including doxycycline, cefotaxime or ceftriaxone, which they continued at home for the prescribed length of the course. The researchers then tracked how quickly the patients' symptoms resolved.
They report online July 30, 2018, in the Journal of the Pediatric Infectious Diseases Society, that the time to symptom resolution for early stages of disease did not depend on the duration of symptoms prior to starting antibiotics. However, for later stages of disease, patients with longer duration of symptoms prior to starting treatment took longer for their symptoms to resolve.
For patients with early-stage disease, the most common symptom was headache; the median time to symptom resolution was just three days, no matter how long the headache had persisted before treatment started. However, for patients with late-stage Lyme disease, the median time to resolution was 18 days. However, the time depended largely on how long symptoms had persisted before patients began taking antibiotics. For example, patients who had experienced arthritis for less than one week had a shorter time to resolution than those who had arthritis for more than two weeks.
This finding is important, Dr. DeBiasi says, because it suggests that diagnosing Lyme disease earlier – and prescribing the appropriate therapy as soon as possible – can hasten recovery. The vast majority of patients in the study, she adds, eventually experienced full resolution of their symptoms, which should be comforting to families worried about whether their child will ever feel well again.
"We all want what patients and their families want: to feel better as quickly as possible," Dr. DeBiasi says. "This study gives us valuable information about how soon that will happen given the duration of pediatric patients' symptoms."
Dr. DeBiasi and Children's Psychologist Maureen Monaghan, Ph.D., are leading another Lyme study in collaboration with the National Institutes of Health/National Institute of Allergy and Infectious Diseases to evaluate symptom resolution, quality of life and neurocognitive outcomes in a larger group of pediatric patients with Lyme disease.
In addition to Dr. DeBiasi and Monaghan, Children's co-authors include Lead Author Mattia E. Chason; Biostatistician Jichuan Wang, Ph.D.; and Yao Cheng.
https://innovationdistrict.childrensnational.org/wp-content/uploads/2018/10/Deer-tick.png
300
400
Innovation District
https://innovationdistrict.childrensnational.org/wp-content/uploads/2018/11/idlogo1-tagline-Advances-in-Medicine.gif
Innovation District
2018-10-22 11:14:36
2019-02-13 14:14:23
Lyme disease: When will pediatric symptoms resolve?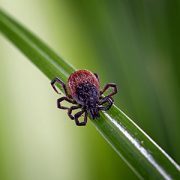 For many Americans, the warmer weather of summer means more time spent outside: More gardening and yard work, more hikes in the woods, more backyard barbecues. But for this year in particular, some experts predict warmer weather will lead to more ticks.
That potential boom in ticks could lead to another boom – in Lyme disease, a bacterial illness transmitted specifically by deer ticks. When ticks attach for at least 36 hours – what studies have shown is typically the lower bound needed to transmit Lyme-causing bacteria—many patients develop a bullseye-like rash at the site of the bite within seven to 10 days. If they're not treated quickly, within weeks patients can develop symptoms such as headaches, heart arrhythmias, rashes and facial paralysis. Within months, Lyme can lead to arthritis, most commonly of the knee.
The standard treatment for Lyme disease is a course of antibiotics, such as oral doxycycline if the patient is older than 8 years old or amoxicillin if the child is younger than 8 – typically two weeks for early symptoms and longer for late symptoms. While the data showing when symptoms clear has been well established for adults, says Mattia Chason, M.D., a third-year resident at Children's National Health System, little was known about how quickly symptoms typically resolve in children. That paucity of data can leave physicians and their families unsure about whether a child might need a repeat dose of antibiotics – or a different kind—or whether lingering symptoms might have a different cause.
To answer this question, he and colleagues – including Dr. Chason's mentor, Roberta L. DeBiasi, M.D., M.S., chief of Children's Division of Pediatric Infectious Diseases – looked at data in the electronic medical records of 79 children who were admitted to Children's main hospital with a laboratory-confirmed diagnosis of Lyme disease from June 2008 to May 2015. The research team was particularly interested in children who had a headache – a strong marker of the early disseminated form of the disease – or pain and swelling of the knee, a strong marker of the late form of the disease.
They found that after children with the early form of Lyme disease started treatment, their Lyme-associated headaches resolved rapidly – most within one to three days­ – no matter how long headaches were present before they came to the hospital for treatment.
However, for those with knee pain and swelling, the majority took between two to four weeks to resolve. The longer symptoms had been in place before treatment started, Dr. Chason says, the longer they tended to take to disappear.
The team also looked at a phenomenon called post-treatment Lyme disease syndrome, characterized by a constellation of symptoms, such as fatigue, generalized musculoskeletal pain and cognitive slowing, that can occur six months after an initial diagnosis of Lyme. Only two children out of the 79 met the criteria for this diagnosis, suggesting that it's exceedingly rare in the pediatric population.
Taken as a whole, Dr. Chason says the findings provide a guide to doctors and family members alike on when to expect relief from Lyme symptoms. "Patients who come in with early symptoms tend to resolve rather quickly," he says. "But for those with later symptoms, resolution can take quite some time. Those patients should see their doctors if there's any suspicion of Lyme to get treatment sooner rather than later."
Children's infectious disease experts routinely advise parents about how to protect their children from Lyme disease. Their tips:
Help kids avoid exposure by either wearing long sleeves and pants – a tough sell in warm weather – or using repellents with 20 percent to 30 percent DEET. These repellents can be used on babies as young as 2 months old, Dr. Chason says, and are safe for most individuals.
Check for ticks anytime a child has spent time outside. The best way to perform them, Dr. Chason says, is to check the child each night. Before bath or bedtime, remove the child's clothes and check every part of his or her body, including their hair, armpits, buttock region and the creases of the knee.
Remove ticks gently with tweezers to try to get as much of the arachnid out as possible.
Know what deer ticks look like. If you are unsure how to identify this species, save the tick or take a photo for your pediatrician to view.
If a tick has been attached for at least 36 hours, consult your child's pediatrician for advice on whether the child will need prophylactic antibiotics.
https://innovationdistrict.childrensnational.org/wp-content/uploads/2017/06/Deer-Tick.jpg
300
400
Innovation District
https://innovationdistrict.childrensnational.org/wp-content/uploads/2018/11/idlogo1-tagline-Advances-in-Medicine.gif
Innovation District
2017-06-23 13:44:05
2018-02-05 11:11:34
Treating Lyme disease: When do symptoms resolve in children?
LATEST TWEETS FROM INNOVATION DISTRICT
In less than TWO weeks,10 finalists compete for up to $50K in @US_FDA funding in #NICU #cardiovascular #orthopedic & #spine pediatric device innovations. Stay tuned for highlights & results of the 9/30 competition. @umdbioe @ChildrensNatl #Innovate4kids http://spr.ly/6015GvwGf
Invited commentary by @VirusDocDeBiasi and Meghan Delaney discusses how a new study out of South Korea is critical for public health officials to develop policies to help slow the rate of #COVID19 transmission in the community.
http://spr.ly/6016GQczo