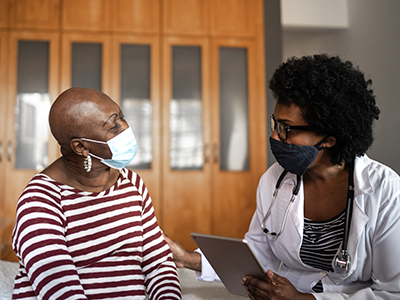 Advance care planning is a process that helps patients define their goals, values and preferences for future medical care. This information is shared with a surrogate decision maker who will make decisions for the patient if/when they are unable to make decisions for themselves. While ongoing conversations with the surrogate about goals of care are recommended, the optimal timing has not been empirically determined, until now.
Maureen Lyon, Ph.D., and her colleagues at Children's National Hospital found that adults living with HIV and their chosen surrogate decision makers, who participated in a FAmily CEntered (FACE) advance care planning intervention, had seven times the odds of being on the same page about end of life decisions compared with controls. The researchers' 5-year randomized clinical trial conducted in Washington, D.C., highlights a critical period 3 months after the intervention which might be optimal to schedule a booster session. FACE advance care planning had a significant effect on both surrogates' longitudinal preparedness and confidence in decision-making and understanding of the patients' end of life treatment preferences, compared to controls. These findings confirm advance care planning is beneficial and support African Americans' desire to have family participate in decision making.
Children's National researchers who contributed to this study include Maureen Lyon, Ph.D., Lawrence D'Angelo, M.D., MPH, Jichuan Wang, Ph.D., and Isabella Greenberg, MPH.
Read the full study in the American Journal of Hospice and Palliative Care.
https://innovationdistrict.childrensnational.org/wp-content/uploads/2021/02/patient-talking-to-doctor.png
300
400
Innovation District
https://innovationdistrict.childrensnational.org/wp-content/uploads/2018/11/idlogo1-tagline-Advances-in-Medicine.gif
Innovation District
2021-02-05 11:06:52
2021-02-05 11:08:45
Advance care planning and the trajectory of end-of-life treatment preference