Spotlight on Suvankar Majumdar, M.D.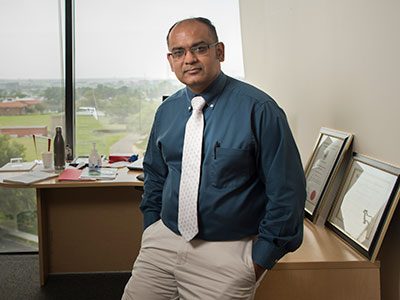 As a provider with international experience, Suvankar Majumdar, M.D., joined Children's National in August 2017 as chief of Children's Division of Hematology within the Center for Cancer and Blood Disorders. Dr. Majumdar is excited to be at Children's National because of the opportunities for growth, cutting-edge research and continuing education that our diverse population of patients can provide clinicians.
Born in Zambia, in southern Africa, and educated in the United Kingdom, Dr. Majumdar moved to Zimbabwe to study medicine, which he considers the turning point of his career. While in medical school, Dr. Majumdar oversaw and managed the treatment of patients with HIV and other chronic illnesses and determined that blood disorders, particularly sickle cell, was where he wanted to place his focus. Since then, he has served as the Director of the Comprehensive Pediatric Sickle Cell Program as well as Director of the Hemophilia Treatment Center at the University of Mississippi and is a recognized leader in hematology and sickle cell disease. It is this expertise, as well as his dedication to research studies, that have already made him an asset to Children's National.
Within the Division of Hematology, Children's providers focus on treating patients with blood disorders, bleeding and clotting disorders, red blood cell disorders (such as sickle cell) and more. Since coming to Children's National, Dr. Majumdar has experienced a tremendous amount of dedication and enthusiasm from his colleagues. "I'm excited to build on what our faculty has accomplished so far. We're already well poised to become a national leader in hematology," he says. "I have no doubt that we will continue to accomplish our goals through collaboration and working toward a common life-saving cause."
One of his immediate goals for the division is to focus on bringing improved patient care and accessibility in the surrounding Washington area. Additionally, Dr. Majumdar is currently conducting two research studies for sickle cell disease. As one of his studies enters the second phase, he's focused on seeing the impact of an intravenous citrulline, a nitric oxide booster, on patients with sickle cell disease. Another study has begun to determine if specific genetic mutations that cause prolonged QT, or irregular heartbeats in patients, cause mortality, as sickle cell patients are predisposed to cardiac episodes.
It is Dr. Majumdar's hope that the hematology team at Children's National will also continue training the next generation of providers to advance research, education and clinical aspects of the field. To those looking to join the specialty, Dr. Majumdar suggests keeping an open mind when it comes to collaborating with colleagues. "My dad always said to my siblings and I that 'to break one stick is easy, but to break three sticks is harder' and really impressed upon us that we're stronger together," he says. "By working together, we're more likely to produce the results that we're looking for."
Being located in the nation's capital, providers at Children's National are accustomed to seeing a diverse array of patients. For Dr. Majumdar, this presents a unique opportunity. "Meeting and interacting with different patients and families was really appealing when I decided to come to Children's National. The variety of cases we see in the Division of Hematology can definitely present new challenges, but it's also more rewarding," he says.
Working with the pediatric population is also a passion of his. "Children are resilient and tend to bounce back quickly," Dr. Majumdar says. "As a parent, I try to empathize with treatment concerns and always treat every child as if they were my own. I'm always going to make sure it's the best level of care possible."
https://innovationdistrict.childrensnational.org/wp-content/uploads/2019/06/Suvankar-Majumdar.jpg
300
400
Innovation District
https://innovationdistrict.childrensnational.org/wp-content/uploads/2018/11/idlogo1-tagline-Advances-in-Medicine.gif
Innovation District
2019-06-04 16:19:32
2019-06-12 15:15:31
Spotlight on Suvankar Majumdar, M.D.