New School-Friendly Health Systems Framework supports children's health and learning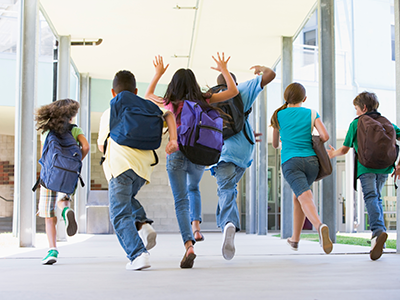 With school back in session and students, educators and health care workers still recovering from the COVID-19 pandemic, it is critical for the health and education sectors to align efforts and drive innovative programs and policy change efforts to address the needs of children.
With input from expert stakeholders, including pediatricians, educators, school administrators, school nurses, parents and community health experts, Children's National led the development of a School-Friendly Health System (SFHS) framework that is based on lessons learned from nationally recognized baby-friendly hospitals and age-friendly health systems initiatives. Becoming school-friendly means that hospitals and health systems have made a commitment to actively help children achieve optimal health and reach their full academic potential.
The big picture
Given the fundamental interrelation of health and education, hospitals and health care organizations need a holistic framework to guide their school partnerships and other efforts to make a positive impact on patient and family engagement, health care costs, health outcomes and, ideally, patients' learning experience. For hospitals and health systems, partnering with schools in their local service area will not only improve service delivery to the students receiving care from the health system but will help strengthen health outcomes and overall student performance.
Children's National Hospital leads the way
Eight health care organizations and partners, led by Desiree de la Torre, M.P.H., M.B.A., Julia DeAngelo, M.P.H., and Danielle Dooley, M.D., M.Phil., of the Child Health Advocacy Institute (CHAI) through executive support of Tonya Kinlow, M.P.A., and Nathaniel Beers, M.D., M.P.A., at Children's National and with support from RESOLVE (a Washington, D.C., -based nonprofit based specializing in collaborative process design), have formed to update the SFHS framework that was first released in 2021. The Collaborative includes interdisciplinary health care professionals who have been leading and coordinating early childhood and K-12 school health initiatives across the nation.
The SFHS framework includes five principles that reflect a broad range of competencies, practices, and policy positions that health care and school health experts and stakeholders view as emblematic of a SFHS – some already practiced, some aspirational: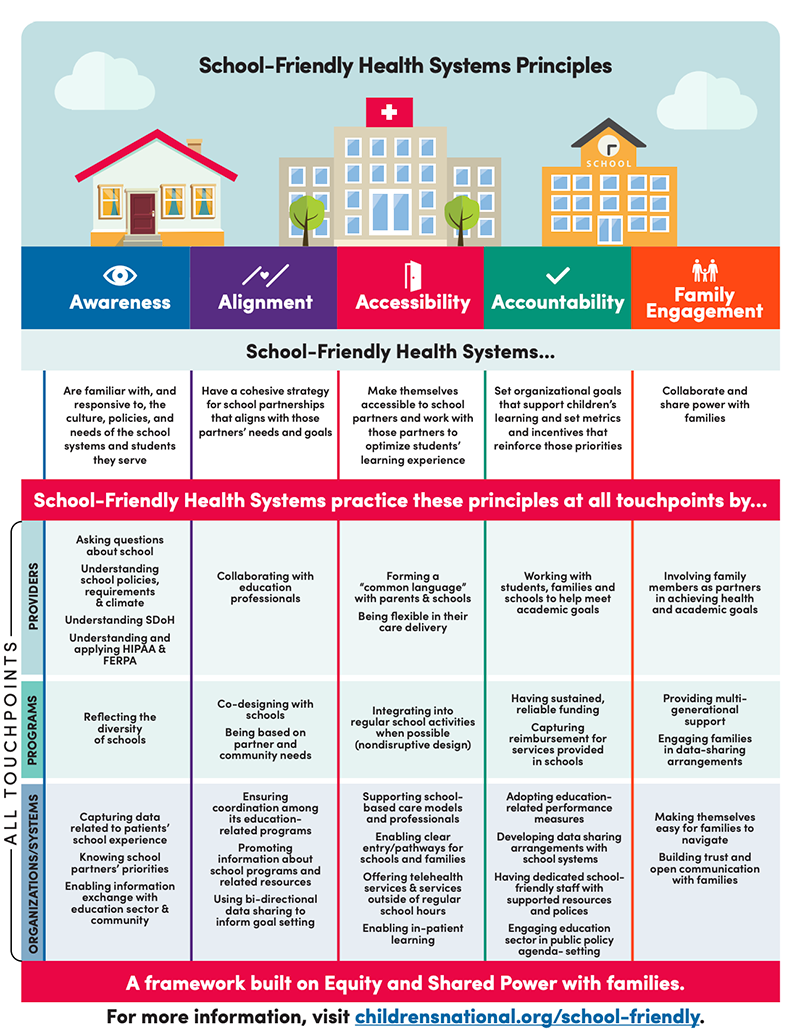 A few significant updates to the framework include embedding the "All Touchpoints Approach" principle across the framework and adding an "Alignment" principle. Other changes included modifying the wording of the Accessibility and Accountability principles and adding a few new practices.
What's next
The Collaborative is now focusing on developing tools to support implementation. Through securing additional funding, the Collaborative will evaluate how the adoption of the SFHS framework across diverse settings has strengthened the healthcare sector's relationships with schools, students and families and ability to improve health and academic outcomes.
Read the full study at childrensnational.org/school-friendly For more information on the SFHS Learning Collaborative, contact School Partnerships@childrensnational.org.
https://innovationdistrict.childrensnational.org/wp-content/uploads/2023/09/kids-running-to-school-feature.png
300
400
Innovation District
https://innovationdistrict.childrensnational.org/wp-content/uploads/2018/11/idlogo1-tagline-Advances-in-Medicine.gif
Innovation District
2023-09-06 15:16:31
2023-09-07 12:49:55
New School-Friendly Health Systems Framework supports children's health and learning