Spurring innovation to support pediatric preparedness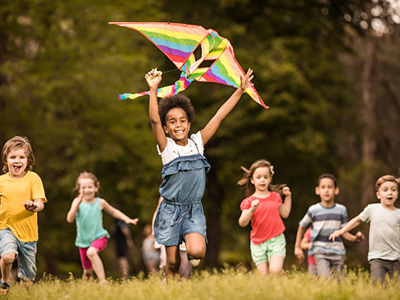 There are many lessons to be learned from the response to the COVID-19 pandemic, but one that is at the forefront is to be prepared for anything and to strengthen readiness even in the unlikeliest circumstances.
This was the focus of a recent panel discussion featuring Lee Beers, M.D., F.A.A.P, medical director of Community Health and Advocacy within the Goldberg Center for Community Pediatric Health and Child Health Advocacy Institute at Children's National Hospital. Dr. Beers is also president of the American Academy of Pediatrics.
The webinar entitled, "Protecting Our Future: Spurring Innovation to Support Pediatric Preparedness," was hosted by Johnson & Johnson Innovation – JLABS (JLABS) as a product of BLUE KNIGHT™, a collaboration between JLABS and the Biomedical Advanced Research and Development Authority (BARDA), a component of the Office of the Assistant Secretary for Preparedness and Response within the U.S. Department of Health and Human Services.
This event focused on what innovators can do to develop therapeutics, diagnostics, vaccines and other technologies that may protect our future, our children. Experts shared what has been done to develop groundbreaking medical countermeasures that aim to prepare and protect pediatric populations from the health threats of today and those of tomorrow. The main discussions were on ecosystems readiness, adaptations for the pediatric population and the way forward in 2021.
"One size does not fit all for pediatrics when it comes to treatments and personal protective equipment," said Dr. Beers "We need to know the need and how to do the roll-out." Fellow panelists agreed.
Dr. Beers went on to say that mental health is the pandemic within the pandemic for our nation's youth. There are increased cases and severity now for children who struggle to cope with the lockdowns. "We cannot have our children bear the burdens of our challenges."
After robust questions and answers from everything from the role of artificial intelligence in preparing for future pandemics to the inclusion of families in research and decisions, the panelists walked away with a good feeling about the future with the unprecedented speed of vaccines aimed to counter the effects of the 2020 virus crisis.
The consensus priorities of 2021 should be to develop specifics for children and not just adaptations from adults, with the aim to advance equity, diversity and inclusion in treatment goals, and to build on the success of telemedicine.
Nationally, funding for pediatric research continues to trail efforts targeted for adults. That's why Children's National is creating a one-of-a-kind pediatric research and innovation hub. The Children's National Research & Innovation Campus is set to open in 2021, located on a nearly 12-acre portion of the former Walter Reed Army Medical Center campus. The campus will combine the strengths of Children's National with those of public and private partners who share the vision of accelerating new discoveries that save and improve the lives of children. At the new campus, breakthrough innovations can more quickly be translated into new treatments and technologies benefitting kids.
Sally Allain, Head of Johnson & Johnson Innovation – JLABS @ Washington, D.C., highlighted the opening of a 32,000 square-foot facility on the Research & Innovation Campus with a residency capacity for up to 50 companies. This will be the first JLABS site anchored with a children's hospital and research institute working to bring recognition to the need for more early-stage research and innovation in pediatrics for our smallest patients.
The new site will serve as an incubator for pharmaceutical, medical device, consumer and health technology companies, and serve as the hub for BLUE KNIGHT™. BLUE KNIGHT™ aims to stimulate innovation and incubation of technologies that improve health security and response through companies focused on public health threats and emerging infectious diseases. At JLABS @ Washington, DC, companies selected for BLUE KNIGHT™ will have access to the JLABS ecosystem and being a part of the Research & Innovation Campus, as well as fee assistance for certain costs associated with access, mentorship for BARDA, and dedicated equipment for BLUE KNIGHT™ companies.
https://innovationdistrict.childrensnational.org/wp-content/uploads/2021/01/happy-children-running-with-kite.png
300
400
Innovation District
https://innovationdistrict.childrensnational.org/wp-content/uploads/2018/11/idlogo1-tagline-Advances-in-Medicine.gif
Innovation District
2021-01-04 17:03:14
2021-06-30 10:44:48
Spurring innovation to support pediatric preparedness