Q&A with leading blood and marrow transplantation specialist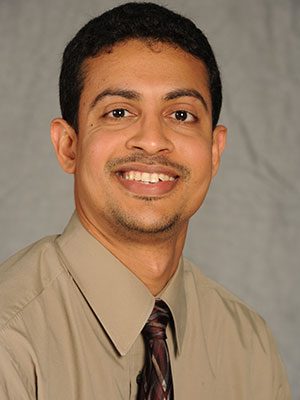 Children's National Health System is proud to be the home of some of the world's leading hematology experts, including Allistair Abraham, M.D., blood and marrow transplantation specialist within the Center for Cancer and Blood Disorders, who was recently selected to participate in the American Society of Hematology-Harold Amos Medical Faculty Development Program (ASH-AMFDP). Designed to increase the number of underrepresented minority scholars in the field of hematology, the ASH-AMFDP has awarded Dr. Abraham $420,000 that includes an annual stipend and research grant over the next four years. Here, Dr. Abraham tells us more about his research and what it means for the future of patients with sickle cell disease.
Q: What does this award mean to you?
A: This award comes at a critical time in my early career as I learn how to become an independent grant-funded researcher. It gives me an opportunity to dedicate 70 percent of my time to research for the next four years, during which I will hone my research skills and have access to highly accomplished mentors at Children's National and from the ASH-AMFDP faculty.
Q: Your research for this grant focuses on improving curative hematopoietic stem cell transplantation for sickle cell disease. Why do they need to be improved?
A: Sickle cell disease causes significant health problems for children, which can worsen as they become adults, and even shorten their lifespan. Curative therapies to date are limited for many patients since most do not have a suitably matched donor for a curative bone marrow transplant. Many of us in the field hope we can provide a safe option for as many patients as possible so they can be cured in childhood and not have to face the negative impacts of the disease as they grow older.
Q: You will also be evaluating virus-specific T-cell (VST) recovery after transplantation. What will this mean for patients?
A: As we explore more transplant donor options such as unrelated donors and mismatched family donors, we have observed delayed immune system recovery. Viral infections are particularly problematic, as they can be life-threatening and respond poorly to available medications. Ultimately, a recovered immune system would address the infection problem. We hope to generate immune cells that are protective against viruses from the transplant donor and give them to patients as part of their transplant procedure.
Q: How do you envision your research improving the future of treatment for sickle cell patients?
A: My hope is that we get closer to having a safer transplant option for most patients who, despite optimal therapy, continue to suffer from complications of sickle cell disease. Ideally, these transplants would not only be widely available, but the treatment would also be simplified to the point where most of the therapy could take place in an outpatient setting.
Q:  Why did you decide to work in this field?
A:  Sickle cell disease has lagged behind other disorders in terms of new treatment strategies for quite some time. I experienced this as a medical trainee and struggled when parents would ask me to "do something" for their child when most of the time all I could offer was pain medication. In the last five years or so, there has been more focus on sickle cell disease from the field and the community, so now is the time to work toward developing a widely available cure.
https://innovationdistrict.childrensnational.org/wp-content/uploads/2018/01/Allistair-Abraham.jpg
400
300
Innovation District
https://innovationdistrict.childrensnational.org/wp-content/uploads/2018/11/idlogo1-tagline-Advances-in-Medicine.gif
Innovation District
2018-01-19 09:34:30
2018-01-19 10:02:54
Q&A with leading blood and marrow transplantation specialist