Psychotherapeutic treatment for psychosocial concerns related to food allergy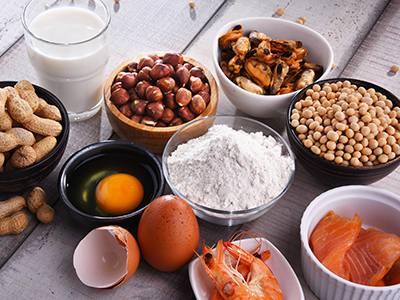 Pediatric food allergy is a growing public health concern, with 8 percent of children in the United States affected. Although new treatments for food allergies are being developed, the vast majority of cases are currently managed by daily evaluation of food safety and vigilance for accidental allergen exposure and allergic reactions. This often impacts patients' and caregivers' quality of life and overall psychosocial functioning.
In a recent article published in the Journal of Allergy and Clinical Immunology: In Practice, Linda Herbert, Ph.D., and Audrey DunnGalvin, Ph.D., provide a review of mental health concerns related to food allergy. The authors present two cases in which patients received psychological services for food allergy-related anxiety. For both cases, treatment resulted in decreased anxiety and improved food allergy management/oral immunotherapy treatment engagement.
The authors also discuss unmet food allergy-related psychosocial needs, including the lack of food allergy-specific anxiety measures, psychosocial domains that warrant investigation, development of supportive interventions for patients engaging in allergen immunotherapy and the lack of adequate mental health providers with food allergy expertise.
Read the full article in the Journal of Allergy and Clinical Immunology: In Practice.
https://innovationdistrict.childrensnational.org/wp-content/uploads/2021/01/common-food-allergens.png
300
400
Innovation District
https://innovationdistrict.childrensnational.org/wp-content/uploads/2018/11/idlogo1-tagline-Advances-in-Medicine.gif
Innovation District
2021-01-27 14:19:42
2021-01-27 14:21:56
Psychotherapeutic treatment for psychosocial concerns related to food allergy