First large-scale proteogenomic analysis offers insights into pediatric brain tumor biology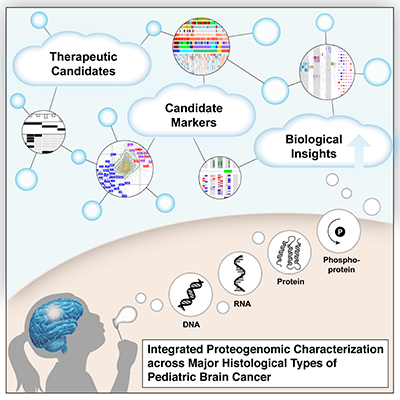 In the first large-scale, multicenter study of its kind, researchers conducted comprehensive analysis yielding a more complete understanding of pediatric brain tumors (PBT), which are the leading cause of cancer-related deaths in children. Researchers from the Clinical Proteomic Tumor Analysis Consortium (CPTAC) and Children's Brian Tumor Network (CBTN) generated and analyzed proteomic data, which identifies common biological characteristics among different tumor types. The consortia consist of collaborators from the Icahn School of Medicine at Mount Sinai, National Cancer Institute, Fred Hutchinson Cancer Research Center, Children's National Hospital and Children's Hospital of Philadelphia. The study, published in Cell on November 25, 2020, provides a clearer understanding of the molecular basis of pediatric brain tumors and proposes new therapeutic avenues.
The molecular characterization of brain tumors has largely hinged upon the presence of unique alterations in the tumor genome ignoring the many layers of regulation that exist between DNA and the functional biology of the tumor cell that is actuated by proteins. The integration of proteomic data identifies common biological themes that span histologic boundaries, suggesting that treatments used for one histologic type may be applied effectively to other tumors sharing similar proteomic features.
Brian Rood, M.D., medical director of the Brain Tumor Institute and associate professor of pediatrics in the Center for Cancer and Blood Disorders at Children's National Hospital, participated in this study and explains the importance of what the team discovered.
Q: Why was it important that researchers came together to do this work?
A: Comprehensive characterization of the fundamental biology of pediatric brain tumors, including the proteogenomic analysis done in this study, is essential to better understand and treat pediatric brain tumors.
Our study is based on the recognition that proteomics and phosphoproteomics needs to be integrated with other omics data to gain an improved systems biology view of the molecular features of brain tumors. In addition, characterizing biological themes that cross histologic boundaries and cells of origin can suggest extending treatments shown to be effective in one type of tumor to other histologically disparate tumors sharing the same proteomic features.
Proteomic data further reveal the functional impacts of somatic mutations and copy number variations (CNVs) not evident in transcriptomic data alone. Further, kinase-substrate network analyses identify activated biological mechanisms of tumor biology.
This work was only possible because of a unique collaboration between the CPTAC program of the NCI and the CBTN, of which Children's National is a member.
Q: How will this work advance understanding and treatment of pediatric brain tumors?
A: Pediatric brain tumors have not benefitted from molecularly targeted drugs as much as other tumor types largely because they harbor relatively few gene mutations. Therefore, identifying key pathways to target in these patients' tumors has been a challenge. The integration of proteomic and phosphoproteomic data with genomic data allows for the construction of a more comprehensive model of brain tumor biology and nominates specific key pathways to be targeted.
Q: What did you find that excites you?
A: Proteomic data revealed a number of findings that were not present in the genomic data. We found evidence to support a molecularly targeted approach to treating craniopharyngioma, a tumor that has previously been unresponsive to chemotherapy. We also found a prognostic marker for high grade gliomas that do not have a mutation in the H3 histone. We were able to identify specific kinases that may dictate the aggressive nature of certain ependymoma tumors. Importantly, we demonstrated the potential of proteomic studies to uncover unique tumor biology, paving the way for more extensive investigations using this approach.
You can find the full study published in Cell. Learn more about the Brain Tumor Institute at Children's National.

Dr. Rood recently joined a live panel discussion with researchers from the Children's Brain Tumor Network and the Clinical Proteomic Tumor Analysis Consortium to explore the impact of their landmark study.
https://innovationdistrict.childrensnational.org/wp-content/uploads/2020/11/Graphic_Abstract.png
300
400
Innovation District
https://innovationdistrict.childrensnational.org/wp-content/uploads/2018/11/idlogo1-tagline-Advances-in-Medicine.gif
Innovation District
2020-11-27 12:48:41
2021-04-23 11:56:08
First large-scale proteogenomic analysis offers insights into pediatric brain tumor biology