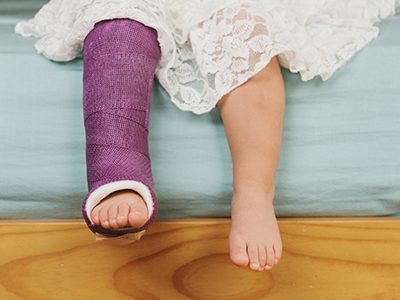 Each year, millions of children in the U.S. come to hospital emergency departments with fractures. While broken bones are commonplace, the expertise to stabilize these injuries and cast them is not, says Children's National Health System orthopedic surgeon Shannon Kelly, M.D.
Most fractures are casted by an on-call resident without the assistance of an orthopedist, she explains. Whether that resident applies a cast successfully depends largely on how well he or she learned this skill as an intern. While most current training models have interns take calls with residents, picking up casting skills through hands-on experience from their more senior peers, they can also pick up mistakes – which get repeated once they're caring for patients independently as residents themselves, Kelly says.
Casting mistakes aren't trivial, she adds. They can have serious consequences for patients. For example, a cast that's not tight enough in the right places can leave bones vulnerable to shifting, a scenario that doctors call a loss in reduction, Kelly explains. If bones aren't in the right position to heal, doctors must reposition them either in the operating room, often exposing patients to general anesthesia, or through painful, in-office procedures.
Conversely, casts that are too tight – particularly on a fresh fracture that's prone to swelling – can damage tissues from loss of circulation. To avoid this latter problem, doctors often create a "bivalve" cast in which the two halves are split like a clamshell, leaving room for tissues to expand. But they must use extreme care when they cut open the cast with a saw to avoid cutting patients with the rotating blade or burning them with heat generated from its friction.
"Each year, thousands of children are harmed from improper casting and must go through additional procedures to fix the damage done," Kelly says.
That's why she and her colleagues are developing a better way to train interns before they start their orthopedics rotation. Starting this spring, the team will be directing a series of casting workshops to train interns on the proper casting technique.
The workshops will take advantage of models that allow interns to practice without harming patients. Some of these models have simulated bones that show up on an X-ray, allowing participants to evaluate whether they achieved a good reduction once they're finished. Other models are made of wax that melts if the heat of a cast saw becomes too intense and show nicks if the blade makes contact. Learning proper technique using this tool can help spare human patients painful burns and cuts, Kelly says.
To broaden this effort beyond Children's National, Kelly and her colleagues received a $1,000 microgrant from the Pediatric Orthopaedic Society of North America to create videos based on material from these workshops. These videos will help trainees at medical institutions across the country learn the same pivotal casting skills.
"A broken bone is difficult enough," Kelly says. "We're hoping to decrease the number of times that a child has to have an unnecessary procedure on top of that from a casting mistake that could have been avoided."
https://innovationdistrict.childrensnational.org/wp-content/uploads/2019/01/Annonymous-young-girl-sitting-on-a-bed-with-a-leg-in-a-cast.jpg
300
400
Innovation District
https://innovationdistrict.childrensnational.org/wp-content/uploads/2018/11/idlogo1-tagline-Advances-in-Medicine.gif
Innovation District
2019-01-31 10:01:14
2019-01-31 10:04:34
Creating better casts