CN-NIAID Symposium seeks ways to promote child health amid challenges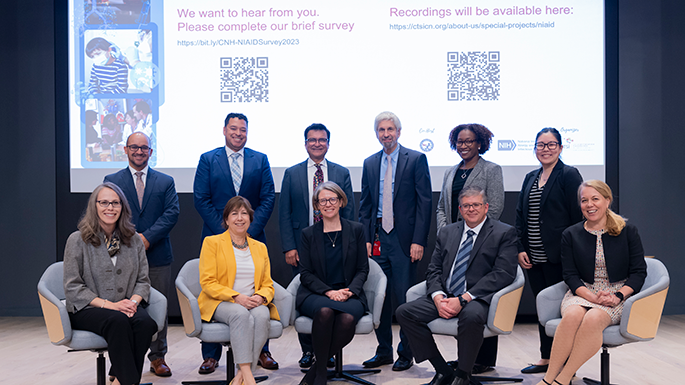 More than 30 million children seek emergency care each year, but 80 percent of these visits happen at hospitals that aren't designed for pediatrics — a daunting figure during pandemics and other crises in healthcare. This considerable hurdle is one of many challenges that leaders in pediatric health came to discuss during a two-day symposium on promoting child health, hosted by Children's National Hospital, the National Institute of Allergy and Infectious Diseases and the Pediatric Pandemic Network (PPN).
The symposium laid out a multitude of issues facing children and their doctors: growing mental health diagnoses, shrinking access to care in rural areas, asthma and eczema, winter respiratory surges and more.
Joelle Simpson, M.D., chief of emergency medicine at Children's National and PPN principal investigator, said the network is drawing on expertise from 10 pediatric hospitals to ensure communities are better prepared for whatever challenges lie ahead, through training and support, collaboration among pediatric specialists, education on best practices and the promotion of equity and inclusion.
Built on a Health Resources and Services Administration grant, the network is focusing on four key areas: infectious disease and disease outbreaks, emergency and disaster management, mental and behavioral health, and health equity and community engagement. "This year, we know we are boiling the ocean as we come together," Simpson said.
Miss the symposium? Check out the recordings available on YouTube, including the closing Q&A with many of the panelists and Sheryl Gay Stolberg, health policy reporter with the New York Times.
Day 1 of the 6th Annual Children's National Hospital – NIAID Symposium
Day 2 of the 6th Annual Children's National Hospital – NIAID Symposium
https://innovationdistrict.childrensnational.org/wp-content/uploads/2023/05/NIAID-symposium-CNRI-feature.png
385
685
Innovation District
https://innovationdistrict.childrensnational.org/wp-content/uploads/2018/11/idlogo1-tagline-Advances-in-Medicine.gif
Innovation District
2023-05-15 11:38:10
2023-05-15 11:49:27
CN-NIAID Symposium seeks ways to promote child health amid challenges