Clinicopathology of diffuse intrinsic pontine glioma and its redefined genomic and epigenomic landscape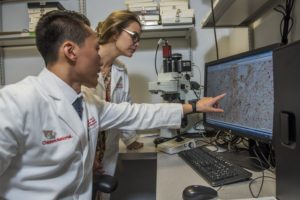 What's Known
Fewer than 150 U.S. children per year are diagnosed with diffuse intrinsic pontine glioma (DIPG), one of the most lethal pediatric central nervous system cancers. Despite an increasing number of experimental therapies tested via clinical trials, more than 95 percent of these children die within two years of diagnosis. Molecular studies have yielded additional insight about DIPG, including that mutations in histone-encoding genes are associated with 70 percent of cases. Understanding mutations that drive tumors and the genomic landscape can help to guide development of targeted therapies.
What's New: Frequently found genetic alterations prevalent in DIPGs
Source: "Clinicopathology of Diffuse Intrinsic Pontine Glioma and Its Redefined Genomic and Epigenomic Landscape." E. Panditharatna, K. Yaeger, L.B. Kilburn, R.J. Packer, and J. Nazarian. Published by Cancer Genetics on May 1, 2015.

https://innovationdistrict.childrensnational.org/wp-content/uploads/2016/09/R@GGenomicDIPG_Image-e1496432847469.jpg
200
300
Innovation District
https://innovationdistrict.childrensnational.org/wp-content/uploads/2017/06/Innovation-District-mobile-logo.jpg
Innovation District
2015-05-01 11:21:29
2018-05-02 16:57:25
Clinicopathology of diffuse intrinsic pontine glioma and its redefined genomic and epigenomic landscape