Children's welcomes hematology leaders, expands expertise
The Center for Cancer and Blood Disorders at Children's National is emerging as a leader in Pediatric Hematology, and the recruitment of two prominent physician-scientists to our Division of Hematology and Sickle Cell Disease Program is evidence of that growth and presence on the national platform. Joining the faculty in June are:
Suvankar (Seve) Majumdar, M.D.
Division Chief, Hematology
Dr. Majumdar was born in Zambia, attended the University of Zimbabwe College of Health Sciences and conducted his postdoctoral medical education at the University of Mississippi. Dr. Majumdar is currently the director of the Comprehensive Pediatric Sickle Cell Program at the University of Mississippi Medical Center. He previously directed the Mississippi Hemophilia Treatment Center and is a recognized leader in hematology and sickle cell disease. In addition to his broad clinical expertise, Dr. Majumdar is an accomplished researcher, and a principal investigator of NIH-funded studies.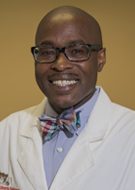 Andrew (Drew) Campbell, M.D.
Director, Sickle Cell Disease Program
Dr. Campbell's distinguished training and career path began at Morehouse College. He continued medical school at Case Western Reserve University and completed post graduate training at Massachusetts General Hospital (Harvard) and Lurie Children's Hospital (Northwestern University). He has been director of the Comprehensive Sickle Cell Center at the University of Michigan since 2005. His research interests span several topics in sickle cell disease including pulmonary complications, fetal hemoglobin switching in transgenic sickle cell mice, phenotype/genotype relationships and renal complications.
The Children's National Division of Hematology includes the most comprehensive pediatric blood disorders team in the Washington, D.C., area. The Sickle Cell Disease Program is among the largest in the country, treating more than 1,400 children and young adults with all types of sickle cell disease.
https://innovationdistrict.childrensnational.org/wp-content/uploads/2018/11/idlogo1-tagline-Advances-in-Medicine.gif
0
0
Innovation District
https://innovationdistrict.childrensnational.org/wp-content/uploads/2018/11/idlogo1-tagline-Advances-in-Medicine.gif
Innovation District
2017-06-21 14:14:41
2017-07-10 11:13:55
Children's welcomes hematology leaders, expands expertise