Sarah Mulkey receives NIH career development grant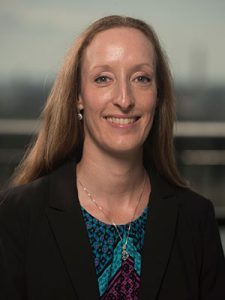 Sarah B. Mulkey, M.D., Ph.D., a fetal-neonatal neurologist in the Division of Fetal and Translational Medicine at Children's National Health System, has received a KL2 award from the Clinical and Translational Science Institute at Children's National, which is funded through the National Institutes of Health. This grant, totaling $135,000 over two years, will allow Dr. Mulkey to reserve dedicated research time — apart from her clinical duties — to pursue a research project studying the autonomic nervous system in newborns.
Dr. Mulkey's project will focus on developing a better understanding of this part of the nervous system — responsible for unconscious control of basic bodily functions, such as heart rate and breathing — in healthy, full-term babies, and how this system integrates with other brain regions responsible for mood and stress responses. Dr. Mulkey and colleagues then will compare these findings to those from babies whose autonomic nervous systems might have abnormal development, such as infants born pre-term or those with congenital heart defects or intrauterine growth restriction. The findings could help researchers develop new interventions to optimize autonomic nervous system development in vulnerable patients and improve long-term neurologic and psychological health in children.
"This award is an incredible opportunity for a young investigator since it provides protected time both for research and career development," Dr. Mulkey says. "We need more clinicians in pediatric research to improve medical care and outcomes for children. This award makes it possible for me to devote significant time to research in order to contribute to new knowledge about babies throughout my career."
To that end, NIH's National Center for Advancing Translational Sciences has created a new LinkedIn page to highlight the innovative work of KL2 scholars.
https://innovationdistrict.childrensnational.org/wp-content/uploads/2018/11/idlogo1-tagline-Advances-in-Medicine.gif
0
0
Innovation District
https://innovationdistrict.childrensnational.org/wp-content/uploads/2018/11/idlogo1-tagline-Advances-in-Medicine.gif
Innovation District
2017-04-27 09:29:56
2022-05-17 12:36:08
Sarah Mulkey receives NIH career development grant