Children's National joins team to use AI to expand health knowledge in Kenya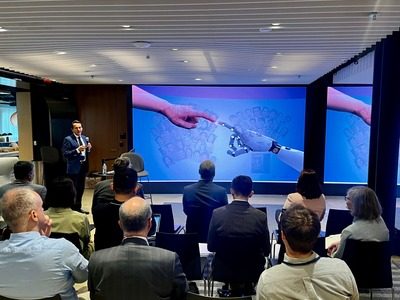 Children's National Hospital is joining a team of global health researchers to use large language models (LLMs) like ChatGPT to help Kenyan youth learn about their health and adopt lifestyles that may prevent cancer, diabetes and other non-communicable diseases.
The work, which is one of nearly 50 Grand Challenges Catalyzing Equitable Artificial Intelligence (AI) Use grants announced by the Bill & Melinda Gates Foundation, will harness the emerging power of AI to empower young people with information that they can carry through adulthood to reduce rates of unhealthy behaviors including physical inactivity, unhealthy diet and use of tobacco and alcohol.
"We are thrilled to be part of this effort to bring our AI expertise closer to young patients who would benefit dramatically from technology and health information," said Marius George Linguraru, D.Phil., M.A., M.Sc., a co-principal investigator for the project, the Connor Family Professor in Research and Innovation at Children's National and principal investigator in the Sheikh Zayed Institute for Pediatric Surgical Innovation. "Using generative AI, we will build an application to enhance the knowledge, attitudes and healthy habits of Kenyan youth and use this as a foundation to improve health inequities around the globe."
Why it matters
A lower middle-income country located on the east coast of Sub-Saharan Africa, Kenya is home to 50 million people and one of the continent's fastest-growing economies. English is one of Kenya's official languages, and the country has been recognized as a technology leader in Africa, with 82% of Kenyans having phone connectivity. Taken together, these factors make the country an ideal location to deploy an LLM-based platform designed to improve health information and attitudes.
The Gates Foundation selected this project from more than 1,300 grant applications. The nearly 50 funded projects are aimed at supporting low- and middle-income countries to harness the power of AI for good and help countries participate in the AI development process. The project's findings will contribute to building an evidence base for testing LLMs that can fill wide gaps in access and equitable use of these tools. Each of the grants provides an opportunity to mitigate challenges experienced by communities, researchers and governments.
What's next
The project development will be led by the National Cancer Institute of Kenya, with Linguraru and other global experts advising the effort from Kenyan institutions and Stanford University. Researchers plan to enroll youth from universities, shopping malls, markets, sporting events and other high-traffic locations. The study will look at participants' risk factors and how their attitudes toward healthier lifestyles changed after engaging with the new LLM platform.
"The team is thrilled to be selected as one of the nearly 50 most promising AI proposals in the Gates Foundation Grand Challenge competition, and we look forward to seeing how our work can benefit the health of Kenyan youth," said Dr. Martin Mwangi, principal investigator for the project and head of the Cancer Prevention and Control Directorate at the National Cancer Institute of Kenya. "If successful, we hope to share this model and the expertise we gain to expand health equity and knowledge to other regions."
https://innovationdistrict.childrensnational.org/wp-content/uploads/2023/08/Linguraru-featured.jpg
300
400
Innovation District
https://innovationdistrict.childrensnational.org/wp-content/uploads/2018/11/idlogo1-tagline-Advances-in-Medicine.gif
Innovation District
2023-08-16 10:16:43
2023-08-24 10:56:23
Children's National joins team to use AI to expand health knowledge in Kenya