Children's National at the Societies for Pediatric Urology Fall Congress
Providers from the Department of Urology at Children's National Hospital attended the Societies for Pediatric Urology Fall Congress in October 2022 and shared a series of abstracts.
The abstracts look at unplanned healthcare use and missed visits among children with spina bifida, as well as factors associated with these outcomes. The team collected data from chart review and patient interviews to complete these projects. They considered clinical information, as well as demographic information and the childhood opportunity index, which is a composite measure that proxies social determinants of health, while accounting for how far a family lives from the emergency department.
Clinically, patients with more complex spina bifida (e.g., ventricular shunt or wheelchair use) were more likely to use the emergency department. Genitourinary and gastrointestinal problems were the most common reasons for emergency department use. Within the Spina Bifida Program at Children's National, our providers are aggressively trying to reduce gastrointestinal complaints with a nurse practitioner dedicated to bowel management and working collaboratively with the Division of Colorectal and Pelvic Reconstruction.
A sobering finding from this research was that non-white patients with spina bifida at Children's National were more likely to have had an emergency department visit between 2016-2020 after accounting for all other variables. This indicates a clear need for improving access, communication and quality of care for minority patients with spina bifida. We are increasingly developing our community partnerships with pediatricians and school nurses, and we are accessible by a direct phone line and email to allow for prompt support. We have also established clinics in Prince George's County in Maryland which will bring the program closer to some minority communities.
The team also found that families of children with spina bifida scheduled for telemedicine visits were much more likely to miss a visit than a child without spina bifida or if the visit was in-person. This has led to changes in how we deploy telemedicine in this population, while still remaining nimble with the option of telemedicine or in-person visits. By screening the family's ability and desire to use this modality, we hope to reduce missed visits overall.
View the abstracts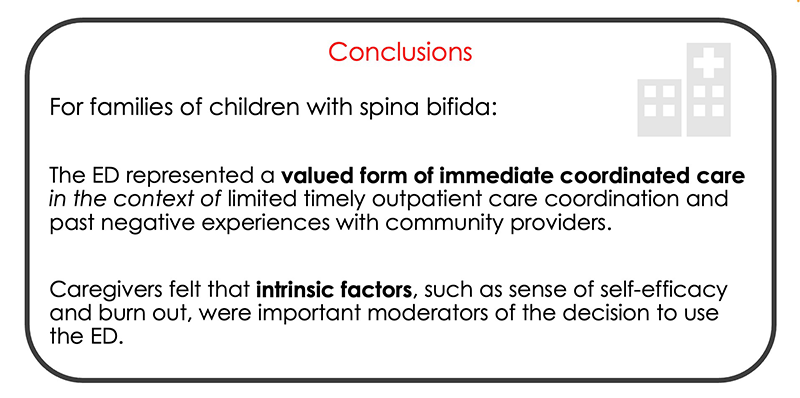 https://innovationdistrict.childrensnational.org/wp-content/uploads/2022/12/Societies-for-Pediatric-Urology-logo.png
300
400
Innovation District
https://innovationdistrict.childrensnational.org/wp-content/uploads/2018/11/idlogo1-tagline-Advances-in-Medicine.gif
Innovation District
2022-12-19 09:27:40
2022-12-19 10:05:13
Children's National at the Societies for Pediatric Urology Fall Congress