Children have more COVID-19 antibodies than previously thought, study finds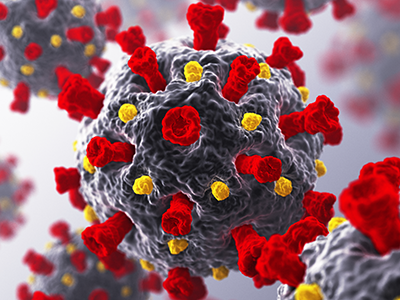 Seroprevalence of antibodies to SARS-CoV-2 in healthy children and children with chronic diseases is higher than researchers previously believed, according to a new study published in The Pediatric Infectious Diseases Journal. The study, which included 385 children in the Washington metropolitan area, found a 9.46% SARS-CoV-2 seroprevalence among this group. Researchers from Children's National Hospital also identified predictive factors such as specific symptoms, race and ethnicity, that are associated with the antibodies' presence in the blood, also known as seropositivity.
The 9.46% seroprevalence in healthy children and children with chronic diseases is higher than previously reported. However, this rate remains below the theoretical herd immunity threshold, estimated between 50% and 67% for the general population in the absence of any interventions — like vaccination — and assuming possible lasting immunity.
"We believe our estimate is a close approximation of seroprevalence for the diverse pediatric population in our region," said the study authors, including Burak Bahar, M.D., lead author and director of Laboratory Informatics at Children's National.
Since most symptomatic individuals are adults and they have been the main focus for seroprevalence studies, there is still a lack of information about SARS-CoV-2 seroprevalence for pediatric patients and healthy kids. With this study, researchers wanted to shed light on the knowledge gap in COVID-19 pediatric research.
"Parents are key allies who can help scientists better understand the virus' behavior in children," said Dr. Bahar.
Until now, it was also unknown if children with chronic diseases had less evidence of antibodies due to underlying conditions, particularly illnesses that cause weakened immune systems. The study showed no notable difference in the association with seropositivity among chronic illness groups, including immunocompromised children.
"Our findings offer important information as all children, with chronic illness or not, could be considered for 'back to school' transitions, because they have the same levels of protection. This means they all can have access to social, emotional and behavioral development," said the authors.
The researchers explored co-existing conditions, symptomatology and demographics as predictors of antibody presence. The analysis showed that children with chronic conditions like asthma, diabetes and cancer were not predictors. This means that these sick kids, when introduced to the virus, make antibodies at the same levels as kids without these diseases.
While most participants were asymptomatic, in those who tested positive for anti-SARS-CoV-2 antibodies, fever, headache and cough were the most common symptoms.
Among the demographics, Hispanic children had a higher seropositive rate than white children. However, median household income based on reported zip code and state of residency were not found to be associated with having antibodies or not.
To determine the impact of continued infections in the community, future studies are needed to identify possible changes in the seroprevalence over a more extended period and to assess seropositivity with vaccination implementation, as that may influence the current rate.
The study is a snapshot in time from July to October 2020. The sample size of 385 patients included both healthy children and those with chronic diseases (69.7%) ranging from 2 months to 22 years old. From the sample pool, 38 individuals were found to have antibodies against SARS-CoV-2. To assess demographic characteristics, symptoms and co-existing conditions associated with seropositivity the researchers used a survey.
A related SARS-CoV-2 antibody production study published on Sept. 3, 2020 in the Journal of Pediatrics, also led by Bahar et al., found that antibodies are detected 18 days after a positive COVID-19 test in children. The authors further noted that the virus and antibodies can co-exist in young patients, so even if seropositivity is detected, they may still transmit the virus.
https://innovationdistrict.childrensnational.org/wp-content/uploads/2020/10/coronavirus-red-and-yellow.png
300
400
Innovation District
https://innovationdistrict.childrensnational.org/wp-content/uploads/2018/11/idlogo1-tagline-Advances-in-Medicine.gif
Innovation District
2021-06-10 16:10:40
2022-12-12 10:23:02
Children have more COVID-19 antibodies than previously thought, study finds