Characteristics of central breathing abnormalities in children with trisomy 21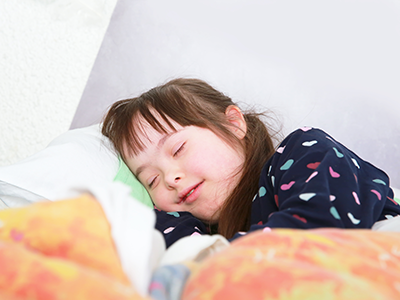 Trisomy 21 (TS21), also known as Down syndrome, is the most common genetic syndrome in the United States. Many children with TS21 have a higher prevalence of sleep-related breathing disorders including central sleep apnea. While the mechanisms of central sleep apnea in TS21 are not completely understood, children with Down syndrome have multiple factors that make them more susceptible to developing central breathing abnormalities, including nervous system impairment, hypothyroidism and hypotonia.
In a recent multi-institutional study published in the journal Pediatric Pulmonology, Gustavo Nino, M.D., MSHS, D'ABSM, director of sleep medicine at Children's National Hospital, and colleagues investigated the clinical features of central breathing abnormalities in TS21 across different pediatric age groups. The researchers also conducted analyses to look at the effects of biological sex and concomitant obstructive sleep apnea in children with central breathing abnormalities.
The authors conclude that "central breathing abnormalities are common in TS21 among young children (≤2 years of age) and in females older than 2 years of age," and that "central apnea is often associated with concomitant obstructive sleep apnea and/or hypoxemia in children with TS21."
Read the full study in Pediatric Pulmonology.
https://innovationdistrict.childrensnational.org/wp-content/uploads/2021/01/girl-with-down-syndrome-sleeping.png
300
400
Innovation District
https://innovationdistrict.childrensnational.org/wp-content/uploads/2018/11/idlogo1-tagline-Advances-in-Medicine.gif
Innovation District
2021-01-26 16:01:44
2021-01-26 16:01:44
Characteristics of central breathing abnormalities in children with trisomy 21