Advances in T-cell immunotherapy at ISCT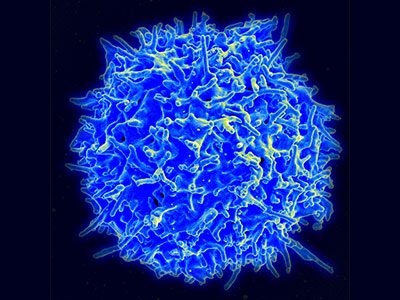 T-cell immunotherapy, which has the potential to deliver safer, more effective treatments for cancer and life-threatening infections, is considered one of the most promising cell therapies today. Each year, medical experts from around the world – including leaders in the field at Children's National Health System – gather at the International Society for Cellular Therapy (ISCT) Conference to move the needle on cell therapy through several days of innovation, collaboration and presentations.
Dr. Catherine Bollard, Children's National chief of allergy and immunology and current president of ISCT, kicked off the week with a presentation on how specific approaches and strategies have contributed to the success of T-cell immunotherapy, a ground-breaking therapy in this fast-moving field.
Later in the week, Dr. Kirsten Williams, a blood and marrow transplant specialist, presented encouraging new findings, demonstrating that T-cell therapy could be an effective treatment for leukemia and lymphoma patients who relapse after undergoing a bone marrow transplant. Results from her phase 1 study showed that four out of nine patients achieved complete remission. Other medical options for the patients involved – those who relapsed between 2 and 12 months post-transplant – are very limited. Looking to the future, this developing therapy, while still in early stages, could be a promising solution.
Other highlights include:
Both Allistair Abraham, blood and marrow transplantation specialist, and Dr. Michael Keller, immunologist, presented oral abstracts, the former titled "Successful Engraftment but High Viral Reactivation After Reduced Intensity Unrelated Umbilical Cord Blood Transplantation for Sickle Cell Disease" and the latter "Adoptive T Cell Immunotherapy Restores Targeted Antiviral Immunity in Immunodeficient Patients."
Patrick Hanley engaged attendees with his talk, "Challenges of Incorporating T-Cell Potency Assays in Early Phase Clinical Trials," and his poster presentation "Cost Effectiveness of Manufacturing Antigen-Specific T-Cells in an Academic GMP Facility." He also co-chaired a session titled "Early Stage Professionals Session 1 – Advanced Strategic Innovations for Cell and Gene Therapies."
To round out this impressive group, Shabnum Piyush Patel gave a talk on genetically modifying HIV-specific T-cells to enhance their anti-viral capacity; the team plans to use these HIV-specific T-cells post-transplant in HIV-positive patients with hematologic malignancies to control their viral rebound.
This exciting team is leading the way in immunology and immunotherapy, as evidenced by the work they shared at the ISCT conference and their ongoing commitment to improving treatments and outcomes for patients at Children's National and across the country. To learn more about the team, visit the Center for Cancer and Blood Disorders site.
https://innovationdistrict.childrensnational.org/wp-content/uploads/2018/11/idlogo1-tagline-Advances-in-Medicine.gif
0
0
Innovation District
https://innovationdistrict.childrensnational.org/wp-content/uploads/2018/11/idlogo1-tagline-Advances-in-Medicine.gif
Innovation District
2017-05-22 11:33:27
2022-12-12 10:19:56
Advances in T-cell immunotherapy at ISCT